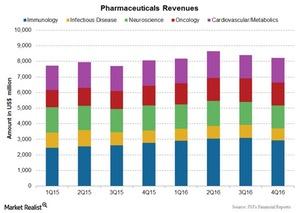 Johnson & Johnson's 1Q17 Estimates: Pharmaceuticals Segment
By Mike Benson

Updated
Pharmaceuticals segment
Johnson & Johnson's (JNJ) Pharmaceuticals segment includes immunology, infectious disease, neuroscience, oncology, and cardiovascular and metabolics.
Article continues below advertisement
Immunology 
The immunology franchise includes many blockbuster drugs including Stelara, Simponi/Simponi Aria, and Remicade. Simponi/Simponi Aria are expected to report strong sales during 1Q17 due to increased market penetration in US markets. Stelara is also expected to report strong sales in the US and international markets. However, Remicade sales are expected to offset immunology growth during 1Q17.
Stelara competes with Amgen's (AMGN) and Pfizer's (PFE) Enbrel.
Infectious diseases 
The infectious diseases franchise mainly consists of HIV products and Hepatitis C products. The strong performance of HIV products, including Prezcobix, should drive franchise revenues in 1Q17. However, growth is expected to be offset by lower sales of the HCV product portfolio including Olysio, Sovraid, and Invico. Lower sales are due to increased competition in US markets.
Article continues below advertisement
Neuroscience 
The neuroscience franchise consists of drugs like Concerta, Invega Sustenna, and Xeplion. Concerta is expected to report positive growth in its 1Q17 revenues due to the reclassification of generic competitors in the US market. Invega Sustenna and Xeplion are expected to have positive growth in 1Q17 following higher demand in long-acting injectable products worldwide.
Oncology 
The oncology franchise includes drugs like Zytiga, Imbruvica, and Darzalex. Zytiga and Imbruvica's strong performance in US markets is expected to drive growth during 1Q17. Darzalex is also expected to report positive growth during 1Q17.
Imbruvica competes with Gilead Sciences' (GILD) Zydelig.
Cardiovascular and metabolics 
The key products for the cardiovascular and metabolics franchise are Xarelto and Invokana. Xarelto is expected to report growth in 1Q17 due to increased demand in US markets, partially offset by lower sales of Invokana in 1Q17.
To divest the risk, investors can consider ETFs like the PowerShares Dynamic Pharmaceuticals ETF (PJP). PJP holds 5.1% of its total assets in Johnson & Johnson.