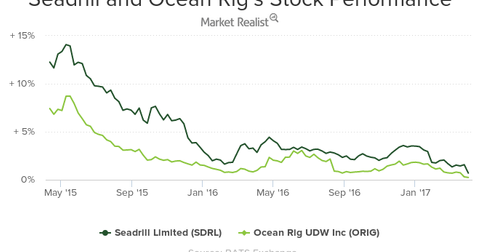 How Restructuring Affects the Offshore Drilling Industry
By Sue Goodridge

Updated
Overview
In the previous part of this series, we looked at Seadrill's (SDRL) progress on negotiations with its lenders and what the restructuring of the company's debt could mean to its shareholders.
In this article, we'll see what a company's restructuring and filing for Chapter 11 bankruptcy could mean to the offshore drilling industry.
[marketrealist-chart id=2026626]
Article continues below advertisement
Bankruptcy protection
When a company files for Chapter 11 bankruptcy protection, it indicates that it can become successful if it can reorganize its assets and debts. In general, investors tend to sell their positions once the company files for bankruptcy and the stock's price drops significantly.
We saw this in the case of Ocean Rig (ORIG). Ocean Rig's stock price fell more than 68% on March 28, 2017, when it filed for bankruptcy protection. Earlier in this series, we saw that Seadrill's stock price fell more than 50% on hints of a possible filing for bankruptcy protection.
Once a company files for bankruptcy protection, the story nearly ends for its shareholders. However, it doesn't end for the company or the industry. Bankruptcy protection doesn't mean liquidation, and the company is able to continue with its business operations.
If Ocean Rig's restructuring process can succeed, it could emerge as a stronger company. This would also be true for Seadrill in the same situation. Once deleveraged, these companies expect to have more robust balance sheets. Although the offshore drilling (OIH) downturn is expected to last at least another year, we believe that there's a good chance that it could recover.
Once these companies emerge from this downturn, Ocean Rig and Seadrill could present stronger competition to their low-debt peers Transocean (RIG), Ensco (ESV), Diamond Offshore Drilling (DO), and Noble (NE).