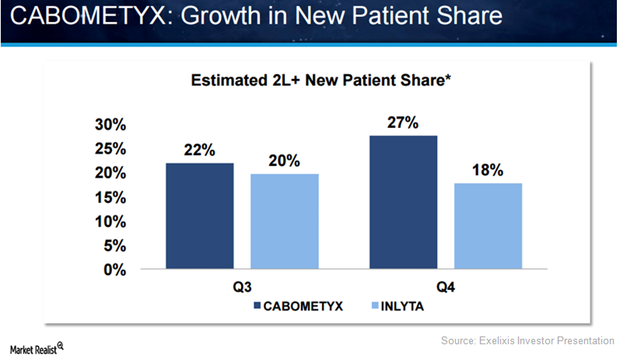 Behind Exelixis's Successful Commercial Launch of Cabometyx in 2016
Cabometyx's commercial launch
Launched in the US in 2Q16, Exelixis's (EXEL) Cabometyx managed to fetch revenues of $31.2 million and $44.7 million in 3Q16 and 4Q16, respectively. The drug witnessed 45% sequential growth in revenues in 4Q16, driven by a 40% rise in the total volume of units shipped as well as a 20% rise in new patient starts.
Exelixis also saw a 60% rise in the total prescriber base from specialty pharmacies for Cabometyx from 3Q16 to 4Q16.
Article continues below advertisement
Article continues below advertisement
The number of outlets ordering Cabometyx also grew by around 50% in 4Q16 as compared to the previous quarter. This highlights solid expansion trends in the specialty distributor channel for Cabometyx, which involves hospitals, academic institutions, government facilities, and community oncology practices.
Notably, the Vanguard Small-Cap ETF (VB) has about 0.19% of its total portfolio holdings in Exelixis.
Market share
Cabometyx has seen a rise in its new patient share in the second-line RCC (renal cell carcinoma) market, which involves both second-line and third-line treatment settings, from 22% in 3Q16 to 27% in 4Q16. In the same period, Pfizer's (PFE) Inlyta witnessed a drop in its market share from 20% in 3Q16 to 18% in 4Q16.
Exelixis Cabometyx has also managed to capture market share from Bristol-Myers Squibb's (BMY) Opdivo in the second-line RCC segment. Exelixis also plans to capture more market share in third-line RCC segment from other oral agents such as Novartis's (NVS) Afinitor.
Based on the efficacy and safety profile of the drug, physicians have been considering the option to move Cabometyx in earlier lines of therapy. This will boost the drug's sales as it increases the overall addressable market size for Cabometyx.
In the next part, we'll explore competition trends for Exelixis' Cabometyx in greater detail.