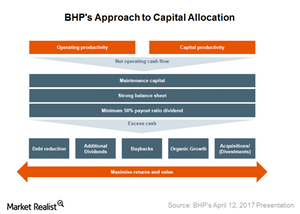 Cyclical Nature of BHP's Business and Mechanistic Share Buybacks
Capital management
The third element of Elliott Funds' "value unlock" plan for BHP Billiton (BHP) (BBL) is the adoption of a policy of consistent and optimized capital returns to shareholders.
Elliott estimates that going by its current 50% payout ratio, BHP should generate ~$31 billion in excess cash flow in the next five years. It believes that in the past, BHP has used its excess money on value-destructive acquisitions. Elliott wants BHP to use its excess funds to return money to shareholders via post-unification off-market share buybacks.
Article continues below advertisement
BHP's response
BHP believes that share buybacks have been a core element of its capital allocation framework. According to the company, it's returned ~$23 billion in share buybacks and ~$56 billion in dividends to shareholders since the formation of its dual-listing structure.
BHP also said in its press release, "Decisions on buybacks need to consider the cyclical nature of the resources industry and returns available from other uses of cash."
Cyclical nature
BHP's management also believes that a mechanistic approach isn't optimal for a cyclical resources company and that it should follow a counter-cyclical investment approach to maximize value.
Rio Tinto (RIO) announced a share buyback of $500 million in February 2017. However, resources companies (GNR) such as Alcoa (AA), Freeport-McMoRan (FCX), and Vale (VALE) can't always resort to buybacks to return capital to shareholders. Sometimes, they have to make decisions on debt reduction, counter-cyclical investments, dividends, and acquisitions to drive additional growth for shareholders. Moreover, it's not beneficial to buy back shares at the top of a cycle, so timing is very important.