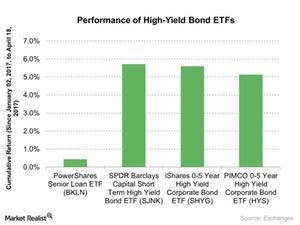 Bill Gross and High-Yield Bonds: Priced for Too Much Growth
By Sarah Sands

Apr. 20 2017, Published 2:26 p.m. ET
Bill Gross on high-yield bonds
In the previous part of this series, we saw that Bill Gross believes the equity market is "priced for too much hope." He also believes that all asset classes are elevated to artificial levels. For the high-yield bond market, he believes it's "priced for too much growth."
The high-yield bond market is generally considered risky because those bonds have lower credit ratings than other investment bonds such as Treasury bonds and corporate bonds. High-yield bonds generally pay higher and thus have higher default risks. Startups and capital-intensive companies issue high-yield bonds. Gross believes equity and other riskier assets are priced too high with expectations of growth.
Article continues below advertisement
Investing in high-yield bonds
Investors generally invest in high-yield bonds (BND) when there are expectations for higher economic growth (VFINX) (IWM). When the economy shows strong movement, investors believe that startups and capital-intensive companies that issue high-yield bonds could pay their interest and principal amount.
The expectation for a higher fiscal stimulus, infrastructure spending, tax reform, and deregulation has been driving market movement (SPY). Those expectations have also increased investor sentiment for more economic growth. But after the House's healthcare bill failed to get enough votes, investor sentiment got shaky. In March 2017, the S&P 500 index fell nearly 1.4%, mainly due to the failed healthcare bill.
Performances of high-yield bond ETFs
Some high-yield bond ETFs such as the PowerShares Senior Loan ETF (BKLN), the SPDR Barclays Short Term High Yield Bond ETF (SJNK), the iShares 0-5 Year High Yield Corporate Bond (SHYG), and the PIMCO 0-5 Year High Yield Corporate Bond ETF (HYS) rose 0.44%, 5.7%, 5.6%, and 5.1%, respectively, year-to-date as of April 18, 2017.
In the next part of this series, we'll look at Gross's view on economic growth and the factors behind the bull market.