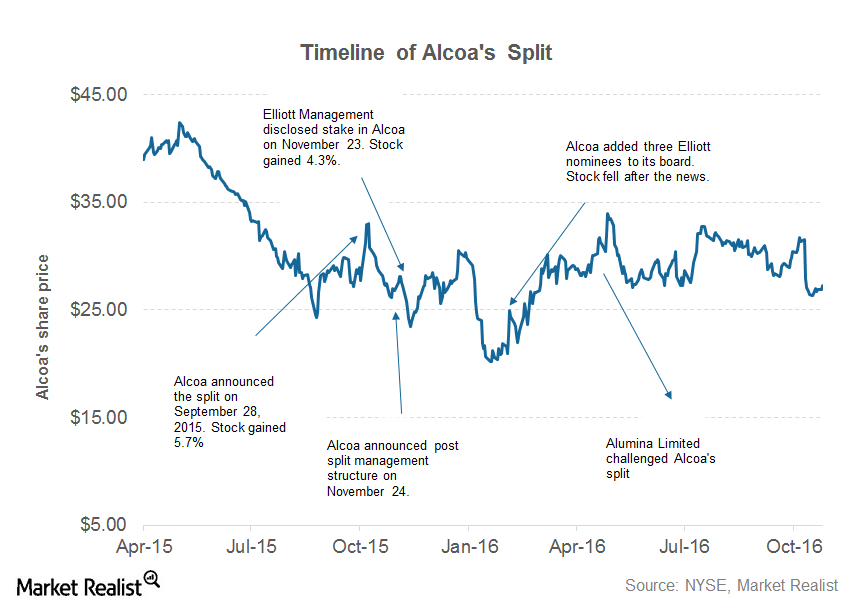 Arconic's Tough Beginning: Controversies and Battles
Arconic's earnings anticipations
Arconic (ARNC) is scheduled to release its 1Q17 earnings on April 25. The company was listed as a separate entity on November 1, 2016, when Alcoa split into two new entities, Alcoa (AA) and Arconic.
The graph below shows the timeline of Alcoa's split, which completed a process that was initiated by the company in September 2015. However, the actual seeds of the split were planted almost a decade ago, when Alcoa started to expand its value-add portfolio (ATI) (WWD).
Alcoa, which now is a pure-play commodity producer, is expected to release its 1Q17 earnings on April 24. For the analysts' estimates for Alcoa's 1Q17 earnings, you can read Market Realist's series Could Alcoa's 1Q17 Earnings Help Revive Investor Optimism?
Article continues below advertisement
Corporate battle
Arconic's 1Q17 earnings will come at a time when the company is locked in a corporate battle with Elliott Management, its largest shareholder. Notably, Klaus Kleinfeld, who was Arconic's CEO (chief executive officer), has recently resigned over the controversial letter he sent to Elliott's founder, Paul Singer. Kleinfeld's ouster was among Elliott's demands, along with getting four seats on Arconic's board.
Series overview
While the company's current corporate battle could have a long-term strategic impact for Arconic, we might see earnings take center stage over the next few days.
In this series, we'll explore analysts' expectations for Arconic's 1Q17 earnings. We'll also discuss key market metrics (MDY) (MID-INDEX) to listen closely to in the company's 1Q17 earnings call.
Let's begin by looking at Arconic's 1Q17 revenue estimates.