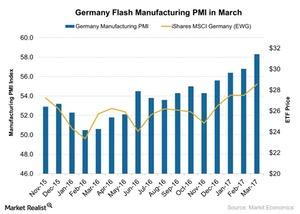 Can March's Manufacturing PMI Boost Germany's Business Climate?
Germany flash manufacturing PMI in March
According to data provided by Markit Economics, the Markit Germany manufacturing PMI (purchasing managers' index) stood at 58.3 in March 2017 compared to 56.8 in February. This was higher than the preliminary expectations of 56.5.
The March PMI report was the strongest increase in manufacturing PMI since May 2011.
The March manufacturing PMI includes the following:
Production output and new orders increased in March 2017.
Export orders improved at a higher rate in March 2017.
Employment also grew sharply in March 2017.
Article continues below advertisement
Performance of various ETFs
Between March 1–24, 2017, the iShares MSCI Germany ETF (EWG) rose 2.3%. The iShares MSCI Eurozone ETF (EZU), which tracks the performance of the Eurozone (HEDJ) (FEZ) (IEV), also rose 4.1% during the same timeframe.
Manufacturing PMI is an important indicator for the economy. The strong growth of Germany's manufacturing PMI compared to the February figure indicates that the business climate improved at a higher rate in March.
The performance is mainly driven by the higher international demand from countries such as China (FXI) (YINN), the US (SPY) (QQQ), and the UK (EWU). However, the uncertainty about the Eurozone's political environment is weighing on the performance of the major indexes.
In the next part of this series, we'll look at the manufacturing PMI for the Eurozone in March 2017.