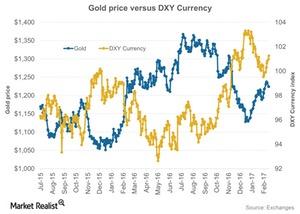 Understanding the Fall in the US Dollar and How Precious Metal Reacted
The DXY Index
All four precious metals witnessed a rise in price on Monday, March 20, as the US dollar slipped to its six-week low. The US Dollar Index (DXY), which measures the US dollar against the basket of six major world currencies, ended the day at 100.4. DXY has fallen almost 0.9% over the past five trading days.
The rise in the US dollar has a negative impact on dollar-denominated assets like gold, silver, and other precious metals, and because precious metals are dollar-denominated assets, their demand can suffer from any rise in the value of the US dollar (UUP).
But gold and the dollar have a close inverse relationship to each other. The correlation between these two has been -0.21 on a YTD (year-to-date) basis. This correlation suggests that about 21.0% of the time, gold and the dollar move in opposite directions.
Article continues below advertisement
Article continues below advertisement
The G20 summit
The Trump administration's protectionist stance during the G20 meeting held over the past weekend likely caused the dollar to tumble, and this stance is now playing on precious metals. As a result, gold, silver, platinum, and palladium rose 0.31%, 0.14%, 0.98%, and 0.75%, respectively, on Monday.
Precious metal funds like the iSharers Gold Trust (IAU) and the iShares Silver Trust (SLV) have risen 2.5 % and 2.7%, respectively, on a trailing-five-day basis. The breather between the interest rate hike and the fall of the dollar helped fuel growth in these funds.
Notably, mining shares that rose on Monday include Pan American Silver (PAAS), AngloGold Ashanti (AU), Hecla Mining (HL), and Kinross Gold (KGC). Combined, these four stocks make up about 10.5% of GDX.