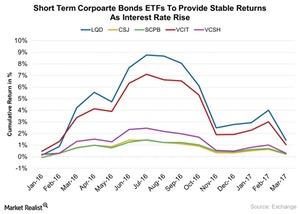 Short-Term Corporate Bonds Help Mitigate the Risk
By Mary Sadler

Nov. 20 2020, Updated 5:05 p.m. ET
Short-term corporate bond offering
A short-term corporate bond offers investors with a lower risk profile to invest in fixed income securities that have intermediate or short-term maturities. The investment period ranges from three to five years under short-term and intermediate maturities, respectively. Short-term maturities help investors insulate against changes in the interest rate—compared to long-term maturities.
Article continues below advertisement
Performance in 2016
Short-term corporate bond ETFs provided high yield in a low interest rate environment in 2016, as you can see in the above chart. The iShares iBoxx $ Investment Grade Corporate Bond (LQD) and the Vanguard Interim-Term Corp Bond (VCIT) provided decent returns in 1H16 of ~9% and 7%, respectively. As of the end of 2016, the returns fell to 3% and 2%, respectively. LQD is the largest fixed income ETF with total assets of ~$31 billion as of 2016. The fund recorded inflow of ~$3.7 million in 2017. The top four allocations in funds include Anheuser-Busch Inbev (BUD), GE Capital (GE), Verizon Communications (VZ), and Goldman Sachs (GS).
The returns from the short-term bond in the last six months have been declining. However, they still provide much better returns than other Treasury investments. Comparing the returns between the iShares iBoxx $ Investment Grade Corporate Bond (LQD) and the iShares 7-10 Year Treasury (IEF) shows a gap in 2016. In 2016, IEF fell ~6% compared to LQD rising ~3%. The difference between investment grade ETFs (LQD) (VCIT) and high-yield bond ETFs (HYG) (JNK) seems to be increasing with high expectations of an interest rate hike soon. Investors need to watch their strategy in the high interest rate environment.
Read Will Bond Market Rally Take a Break amid Interest Rate Hikes? for more updates on the bond market in 2017.