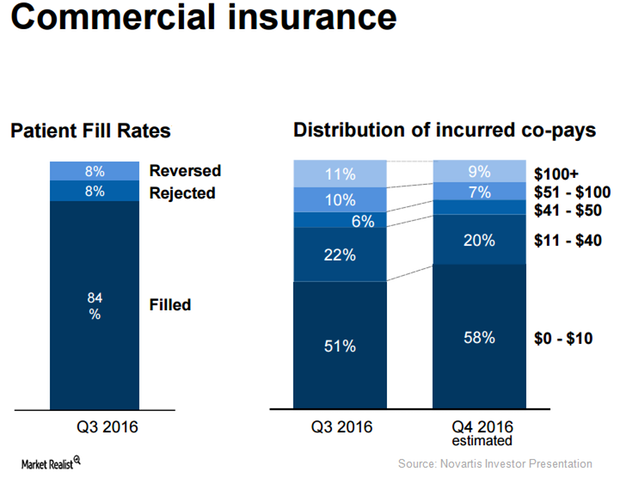 Reduced Co-pays May Boost Demand for Entresto
Reduced co-pays
Compared to 43% at the end of 2015, Novartis's (NVS) Entresto managed to attain a preferred formulary position in 66% of commercial plans in the US at the end of 2016. In 2015, around 30% of the commercial plans didn't cover Entresto. At the end of 2016, only 2% of commercial plans didn't include Entresto in their coverage.
With 98% of commercial plans covering Entresto, the majority of covered patients have access to the drug with a $10 co-pay. Reduced co-pays and the subsequent increase in affordability of Entresto could boost demand for the drug in 2017. To know more about co-pays, please refer to making sense of health insurance companies' payment options. If these projections materialize, it may have a positive impact on Novartis stock as well the PowerShares International Dividend Achievers Portfolio (PID). Novartis makes up about 1.5% of PID's total portfolio holdings.
Article continues below advertisement
Article continues below advertisement
In 4Q16, around 58% of commercially covered patients incurred lower than $10 as a co-pay for Entresto. 20% of commercial patients had co-pays in the range of $11 to $40, 6% paid in the range of $41 to $50, and 7% of patients paid in the range of $51 to $100. Only 9% of commercially covered patients had co-pays in excess of $100.
Treatment guidelines
On May 21, 2016, Novartis announced that Entresto was assigned the Class I recommendation in the updated treatment guidelines for heart failure released by the American Heart Association, the American College of Cardiology, the Heart Failure Society of America, and the European Society of Cardiology. These recommendations have endorsed Entresto as the standard of care for patients diagnosed with heart failure with reduced ejection fraction (or HFrEF). Novartis will thus pose strong competition to Pfizer (PFE), Merck (MRK), and Amgen (AMGN).
In the next article, we'll discuss Novartis's strategy to expand the use of Entresto in 2017.