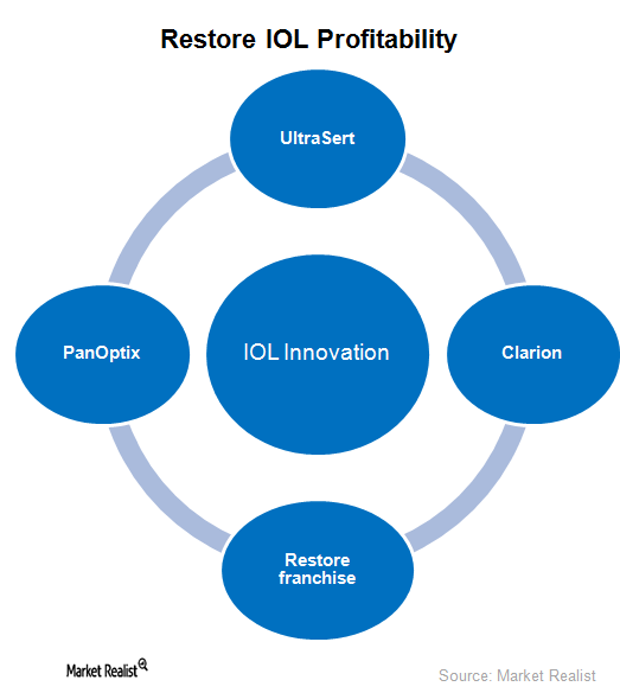 Novartis Expects to Restore Alcon's Profitability in the Future
Restore profitability
Novartis (NVS) has focused its efforts on improving its customer service levels and entering into lucrative partnering deals to boost profitability for its Alcon business. The company is also increasing its field force to create greater awareness among physicians about Alcon's its product portfolio.
The company has also been aggressive in optimizing the allocation of its resources to improve its top line and its quality of service. Finally, Novartis is focused on stimulating both internal and external innovation in its Alcon segment. In 2016, Novartis added three promising ophthalmology assets to its portfolio: NGENUITY, CyPass, and PowerVision. The company plans to launch NGENUITY and CyPass in 2017.
If its efforts help to restore Alcon's profitability, Novartis's share price could see a boost, as could the price of the PowerShares International Dividend Achievers ETF (PID). Novartis makes up ~1.5% of PID's total portfolio holdings.
Article continues below advertisement
Article continues below advertisement
Innovation and IOL
To overcome the competition in the intraocular lenses (or IOL) segment, Novartis has focused on an incremental innovation strategy in the short term. As a long-term strategy, the company is currently developing multiple IOL platforms.
In 2017, Novartis launched UltraSert, a preloaded delivery system used to ease the implantation of AcrySof IQ Aspheric IOL into the eye of the patient undergoing the cataract procedure, in Japan. The company expects to launch this delivery system in all major markets by 2H17.
Novartis has also undertaken an initiative to educate cataract patients in the United States on the benefits of Toric IOLs.
Further, the company witnessed solid demand for its AcrySof IQ PanOptix trifocal IOL in the European market. This tri-focal lens, when implanted into the eyes of cataract patients, helps to satisfy their near, intermediate, and long-distance vision needs.
On December 22, 2016, the FDA approved the use of Restore Toric lenses for patients suffering from both presbyopia and corneal astigmatism. Further, Novartis has submitted an application to seek regulatory approval for Clarion, a new material IOL platform, in Europe.
All these developments will enable Novartis to pose tough competition to other eyecare players such as Valeant Pharmaceuticals (VRX), Cooper Companies (COO), and Johnson & Johnson (JNJ).
In the next article, we'll discuss Novartis's research and development strategy for 2017.