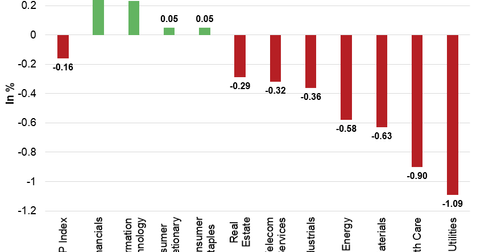 S&P 500 and Dow Are Weaker after the Rate Hike
By Val Kensington

Updated
S&P 500
After rising to the highest close since March 1, 2017, the S&P 500 pulled back on Thursday. The market sentiment was dented by weakness in oil prices and the fall in shares related to the utilities and healthcare sectors.
The market regained strength due to the Fed raising the interest rate. The Fed increased the interest rate by 25 basis points for the third time in a decade. According to the Fed's statement, the improving economy and strengthening labor markets were the reasons behind the interest rate hike. The Fed commented that inflation is moving towards its target of 2%. The rate hike improved the market sentiment, but it wasn't able to hold the price levels on Thursday.
Article continues below advertisement
According to data released by the U.S. Department of Labor on March 16, US initial jobless claims fell to 241,000 in the last week. It's slightly higher than the market's forecast of 240,000. The market is waiting for US industrial production data scheduled to release on March 17. On Thursday, Biogen (BIIB), Illumina (ILMN), and Newmont Mining (NEM) were the top losers in the S&P 500.
Volatility Index
On March 16, the S&P 500 started the day higher, but it wasn't able to maintain strength. The S&P 500 VIX Index (CBOE Volatility Index) measures uncertainty in the market. On March 16, it fell 3.6% to 11.21. It's measured on a scale of 1–100 with 20 as the historical average. It's also called the "fear index." Generally, it moves opposite to stocks' movements—it falls when the S&P 500 rises.
After a strong performance on Monday, the NASDAQ Composite Index closed almost flat on March 16. The NASDAQ Composite Index rose 0.01% on March 16 and closed the day at 5,900.76. The Dow Jones Industrial Average stayed below 21,000. It closed at 20,934.55—a fall of 0.07% or 15.55 points. The SPDR S&P 500 ETF (SPY) fell 0.2% on March 16. In the next part, we'll discuss how the utilities sector performed on Thursday.