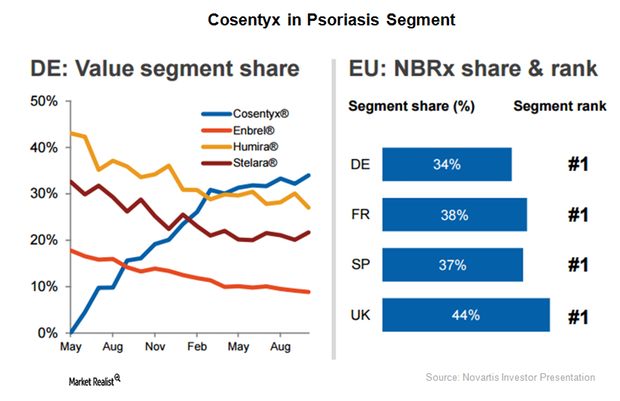 Cosentyx Enjoys Solid Demand as Psoriasis Therapy in Europe
Psoriasis segment performance
According to IMS New Prescription Audit (or NPA), in 2016, Novartis's (NVS) Cosentyx surpassed its closest competitor, Eli Lilly's (LLY) Taltz, in number of total weekly prescriptions in the US market. These prescriptions were across multiple indications.
However, the gap between Cosentyx and Taltz is smaller in terms of new-to-brand prescriptions (or NBRx) in the US due in part to the free drugs provided by competitors in the US market. If Cosentyx manages to attain a significant share of the psoriasis market in the US, it could have a positive impact on Novartis stock and the Pharmaceutical ETF (PPH). Novartis makes up about 5.9% of PPH's total portfolio holdings.
Article continues below advertisement
Article continues below advertisement
In Germany, Cosentyx's share of the psoriasis market has surpassed the shares of other competitor drugs such as Amgen's (AMGN) Enbrel, AbbVie's (ABBV) Humira, and Johnson & Johnson's Stelara. The drug has already attained the number one position in the interleukin 17 monoclonal antibody class of psoriasis drugs in Europe. Cosentyx also has the highest NBRx share in major European markets such as Germany, France, Spain, and the United Kingdom.
Strong prescribing trends
Throughout 2016, Novartis has witnessed a gradual rise in the number of physicians prescribing Cosentyx both in the US as well as in Europe. Around 65% of US dermatologists prescribe a biologic therapy for treating skin conditions. Approximately 40% of these dermatologists have been prescribing Cosentyx. While only 30% of dermatologists prescribe biologics in European markets, a sizeable 55% of these physicians prescribe Cosentyx. Based on Symphony Prescriber data seven months after the launch of Cosentyx and Taltz, the number of prescribers for the former was significantly higher than for the latter in the US market.
Biologics penetration has been significantly higher in the rheumatology segment both in the US and Europe. Approximately 20% of rheumatologists prescribe Cosentyx in the US, while 40% of rheumatologists in Europe prescribe the drug.
In the next article, we'll discuss growth trends for Novartis's heart failure drug, Entresto.