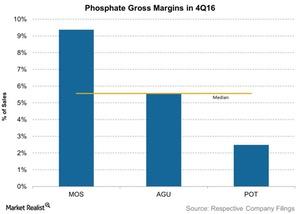 Why Phosphate Matters: Margins Among the Biggest Producers
Phosphate segment's margins
Previously in this series, we looked at prices and shipments for the phosphate segments of some of the biggest players in the agricultural fertilizer sector (VAW). With average realized prices for phosphates having fallen in 4Q16, the margins of these companies' phosphate segments have also been affected.
Article continues below advertisement
Overall margins
Average phosphate margins for these companies have significantly contracted in 4Q16 compared to one year ago. To put this in perspective, the median gross margin for the above companies' phosphate segments was 14% as a percentage of segment sales in 4Q15, and this fell to just 6% in 4Q16.
Breakdown by companies
Mosaic (MOS) continued to enjoy higher margins at 9%, as compared to Agrium's (AGU) 6%. Mosaic's margins fell from 12% in 4Q15, while Agrium fell from 19% in 4Q15. PotashCorp (POT) continued to have lower phosphate margins, as compared to the above two companies. PotashCorp's phosphate segment's margins contracted to 2% from 14% in the corresponding quarter a year ago in 4Q15.
Falling phosphate prices were the primary contributor to the above companies' dismal gross margins.
Once again, increased availability of phosphates and weaker demand affected prices according to Israel Chemicals (ICL). Thus, the competitive pressures have significantly impacted the margins of all these companies.
To learn about the recent analysts' ratings and recommendations of these companies, visit Market Realist's Agricultural Fertilizers page.