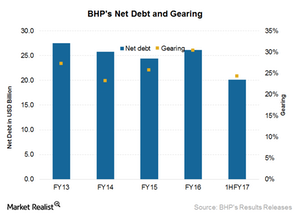 BHP's Balance Sheet: The 2017 Outlook
Balance sheet strength
BHP Billiton's (BHP) (BBL) net debt was $20.1 billion at the end of December 2016, as compared to $26.1 billion as of June 30, 2016. The reduction in net debt is mainly supported by strong free cash flow generation of $5.8 billion. Rio Tinto's (RIO) pro forma net debt also declined to $9.6 billion at the end of December 2016.
Article continues below advertisement
Financial leverage
BHP has a strong balance sheet in this depressed commodity environment. Standard & Poor's raised BHP's outlook to stable from negative due to "exceptional liquidity" and a stronger outlook for commodity prices. It also flagged a potential upgrade for the company.
BHP's credit rating is strong compared to its peer group, including Freeport-McMoRan (FCX), Vale (VALE), and Anglo American (AAUKY). Its leverage, or net debt to net debt plus equity, is 24.3%. Rio Tinto has a lower leverage of ~17%.
BHP's maturity profile is well balanced with low refinancing risks. The company has also lowered its dividends and capex to protect its balance sheet in this environment of depressed commodity prices.
Improving financial leverage
The company said that with iron ore and coal prices remaining above their long-term forecasts, it has a bias toward further debt reduction. To achieve this, it announced a bond purchase for up to $2.5 billion. This will target short-dated US dollar notes. This will help the company generate higher returns as some of its surplus cash gets used up.
The company will also extend the maturity profile of its debt. The company also said that with its balance sheet further strengthening, its ability to invest counter-cyclically will enhance further.
Notably, the iShares MSCI Global Metals & Mining Producers ETF (PICK) provides diversified exposure to the metals and mining sector. Rio Tinto's listings make up 11.5% of PICK's holdings. The SPDR S&P Metals and Mining ETF (XME) also invests in some of these stocks.
In the next part of this series, we'll look at analysts' reactions to BHP's latest results.