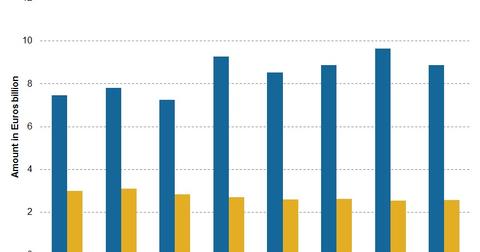 These Prescription Products Matter to Sanofi's Growth
By Mike Benson

Updated
Established prescription products
Sanofi's (SNY) established prescription products contributed nearly 28.9% of the company's total 4Q16 revenues. This franchise reported a 1.3% sequential fall in revenues at ~2.6 billion euros (about $2.76 billion) in 4Q16.
These revenues were majorly impacted by lower sales of established products in European markets, lower sales in Venezuela, and lower Plavix sales across all markets.
Article continues below advertisement
Plavix
Plavix, one of the Sanofi's blockbuster drugs, is an anticoagulant used to prevent blood clots. Plavix reported revenues of 363 million euros in 4Q16, which represents a ~20% sequential fall at constant exchange rates, mainly impacted by the 45.6% fall in revenues in emerging markets.
Notably, Plavix competes with AstraZeneca's (AZN) Brilianta, Eli Lilly's (LLY) Effient, and Johnson & Johnson's (JNJ) Xarelto.
Lovenox
Lovenox, an anticoagulant used in the treatment of and in reducing the formation of blood clots, reported growth of nearly 0.7% in its 4Q16 revenues at 414 million euros, following generic competition in the US markets. The revenues are expected to remain nearly flat due to the entry of potential biosimilars in the European markets.
Renvela and Renagel
Renvela and Renagel are used to control serum phosphorus in patients with chronic kidney disease on dialysis. These drugs had a combined sales of 235 million euros in 4Q16, which represents a 2.5% fall from 4Q15. The revenues in the US fell ~0.5% to 194 million euros in 4Q16. The drug is already exposed to generic competition in a few European countries.
Other drugs from this franchise include Aprovel-Avapro, Synvisc, Allegra, and Myslee.
To divest risk, investors can consider ETFs like the First Trust Value Line Dividend ETF (FVD), which has 0.5% of its total assets in Sanofi.