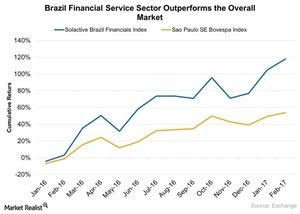 Why the Service Sector's Contribution to Brazil Is Important
Performance of service sector in 2016
The service sector is the main contributor to Brazil's GDP and job creation, but it's currently suffering from structural weakness and poor international performance.
The service sector's contribution to Brazil's GDP is the highest out of all other sectors, including the manufacturing and agricultural sectors. The service industry contributed ~66% to Brazil's GDP in 2015, compared to the industrial sector's 28.5% and the agricultural sector's 5.5%.
Article continues below advertisement
Commodities (DBC) such as crude oil (USO) (BNO) (DBO) and metals products have been key drivers of Brazil's economy in the last few decades. However, this structure has shifted due to the growing importance of the service sector in 2016. As we can see in the chart above, the service sector has outperformed the country's benchmark index in terms of returns.
The Solactive Brazil Financials Index rose ~100% in 2016, compared to Brazil's benchmark Sao Paulo SE Bovespa Index at about 50%. Brazil has a large services sector and has achieved significant growth in business and government services in the last few years.
Service sector structure in Brazil
In the last four decades, Brazil's economic structure has undergone profound changes as the service sector's share has grown rapidly at the expense of the manufacturing sector to reach 66% in 2015. Brazilian services are focused on serving domestic demand and have underperformed in export markets. However, this structure could be helpful when global trade is on the downtrend.
Services inflation is also rising, driven by a high tax burden and lagging productivity levels following the other sectors of the economy. The growth of Brazil's services exports compared to those of other large emerging economies (VWO) (EEM) has been slow, leading to a widening services trade deficit. The flows of foreign investments have also fallen in recent years. However, Brazilian services still receive significant foreign investors aiming to serve the local market.
The financial sector is largely driven by consumerism and movement in interest rates. Improved consumer confidence, as we discussed earlier, and support for monetary policies could help this sector to continue its performance in 2017. Some of the companies to watch in this sector include Banco Bradesco (BBD) and Itaú Unibanco (ITUB).
For more information on Brazil's economic performance check out Market Realist's Can Brazil Continue to Rise despite the Fall in Commodity Prices?