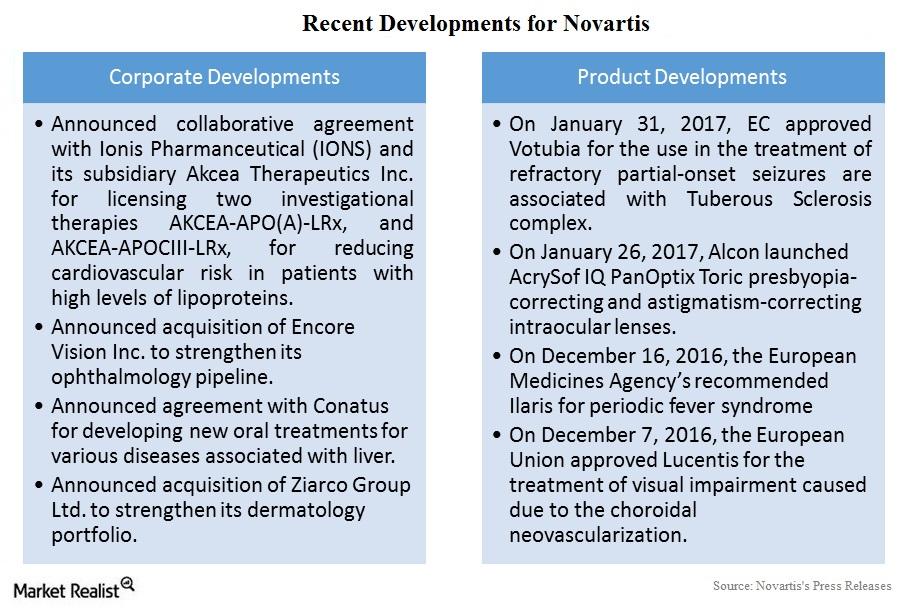 Novartis's Recent Developments
Novartis's recent developments
Novartis (NVS) reported flat revenues at constant exchange rates during 4Q16 as well as in fiscal 2016. This was driven by growth in Sandoz revenues, offset by lower sales in the Innovative Medicines segment and flat sales for Alcon for 4Q16. In 2016, the growth in Sandoz's revenues was offset by lower sales from Alcon, with flat revenues for Innovative Medicines.
Article continues below advertisement
Article continues below advertisement
Corporate developments
NVS's recent corporate developments include the following:
On January 6, 2017, Novartis announced a collaborative agreement with Ionis Pharmaceutical (IONS) and its subsidiary, Akcea Therapeutics, for the licensing of two investigational therapies aimed at reducing cardiovascular risk in patients with high levels of lipoproteins. The two therapies are AKCEA-APO(A)-LRx, and AKCEA-APOCIII-LRx.
On December 20, 2016, Novartis announced the acquisition of Encore Vision to strengthen its ophthalmology pipeline. The acquisition will add a first-in-class treatment for presbyopia, a disease causing farsightedness in people over the age 45 years.
On December 19, 2016, Novartis announced an agreement with Conatus for developing new oral treatments for diseases associated with the liver.
On December 16, 2016, Novartis announced the acquisition of Ziarco Group to strengthen its dermatology portfolio.
Product developments
Norvartis's product updates include the following:
On January 31, 2017, the European Commission approved Votubia (everolimus) for the treatment of refractory, partial-onset seizures associated with tuberous sclerosis complex.
On January 26, 2017, Alcon launched new intraocular lenses, AcrySof IQ PanOptix Toric presbyopia-correcting, and astigmatism-correcting lenses for patients who are undergoing a cataract surgery and have pre-existing corneal astigmatisms.
On December 16, 2016, the European Medicines Agency's Committee of for Medicinal Products for Human Use (or CHMP) recommended Ilaris for periodic fever syndrome.
On December 7, 2016, the European Union approved Lucentis for the treatment of visual impairment caused due to the choroidal neovascularization.
Notably, to divest risk, investors can consider ETFs like the Ecological Strategy ETF (HECO), which has 1.4% of its portfolio in Novartis, 1.4% in Abbott (ABT), 2.0% in Edwards Lifesciences (EW), and 2.1% in Humana (HUM).