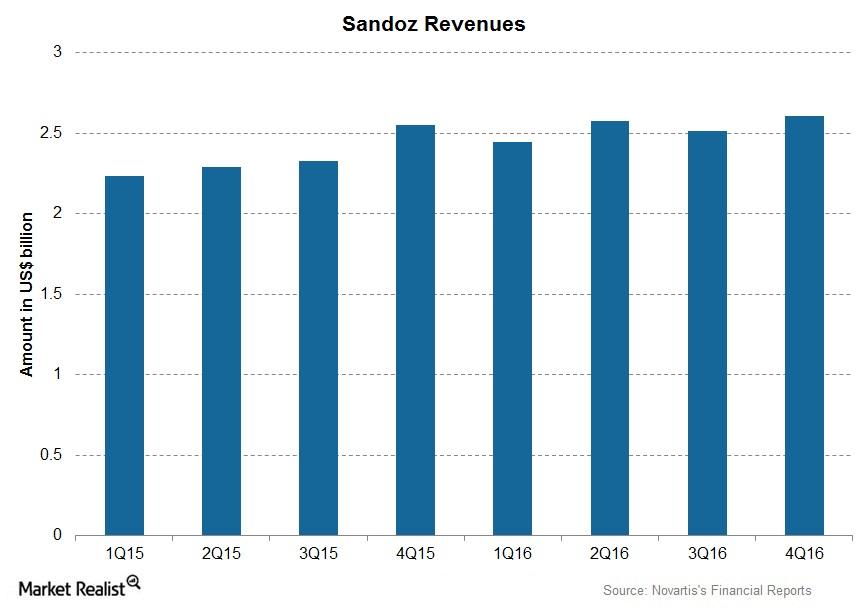 Inside Novartis's Generics Performance in 4Q16
Sandoz, the generics segment
Sandoz, the Generics segment of Novartis (NVS), is second-largest generic medicines provider worldwide and number one in differentiated generics, which includes products difficult to develop and manufacture. For 4Q16, Sandoz contributed ~21.1% of the company's total revenues, fetching $2.6 billion.
Sandoz reported a growth of 3% in 4Q16 revenues at constant exchange rates. The operational growth was driven by a 9% rise in volumes, substantially offset by a 6% fall due to price erosion.
Article continues below advertisement
Article continues below advertisement
Performance of Sandoz products
The revenue drivers for Sandoz are biopharmaceuticals, including biosimilars and Glatopa. Growth was reported across all the regions worldwide. For US markets, reported revenues for 4Q16 came in at $961 million, representing a 3% YoY (year-over-year) rise in revenues at constant exchange rates.
European markets reported 6% growth in revenues at constant exchange rates, fetching ~$1.1 billion and driven by strong sales in the region. Canada and Latin America reported 5% growth at constant exchange rates in 4Q16, while Asia, Africa, and Australasia markets reported a 6% fall at constant exchange rates.
Biopharmaceuticals
The global sales of biopharmaceuticals rose 28% at constant exchange rates to $277 million. These include revenues from biosimilars, biopharmaceutical contract manufacturing, and Glatopa.
This growth was contributed mainly by three in-market biosimilars, including Omnitrope (somatropin), Binocrit (epoetin alfa), and Zarzio with Zarxio (filgrastim), and the strong performance of Glatopa in US markets. The Glatopa (glatiramer acetate) injection is the first generic version of Teva Pharmaceutical's (TEVA) Copaxone 20 mg, which used for the treatment of relapsing forms of multiple sclerosis.
Anti-infective franchise
NVS's anti-infective franchise reported flat revenues at constant exchange rates, reaching $356 million in 4Q16. Sandoz discontinued low-margin products, which led to overall decline in franchise revenues.
Notably, to divest risk, investors can consider ETFs like the First Trust Value Line Dividend ETF (FVD), which has ~0.5% of its total assets in Novartis, 0.5% in Abbott (ABT), and 0.5% in Amgen (AMGN).