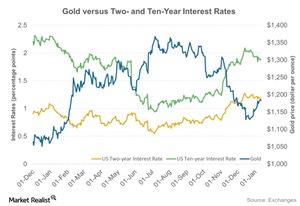 How Interest Rates Are Impacting Precious Metals
Market sentiment
Many of the recent changes in precious metals have been determined by changes in the interest rates offered on US Treasuries. The higher the rate of interest, the lower the demand for non-yield-bearing assets. Notably, the US Federal Reserve had suggested that there will be three rate hikes in 2017.
Market sentiment also depends on the interest rate environment, which, in turn, depends on the confidence that investors have in the US economy—and, to some extent, on Donald Trump and his administration.
We should note here that precious metals are often known to follow a different route than the overall market sentiment follows. Precious metals are thought of as safe-haven assets, which means that they increase with the rise in market risk and fall as risk declines.
Article continues below advertisement
US interest rates
The above chart is a depiction of the comparative price performance of gold and US Treasuries with two- and ten-year rates of interest. It's often seen that the prices of precious metals tend to suffer as the rate of interest offered on Treasuries rise. But the opportunity costs of holding non-yield-bearing assets rise as interest surges.
In any case, the fall in precious metals during the last quarter of 2016 was due to the Fed's rate hike. Specifically, the precious metal mining shares of Royal Gold (RGLD), B2Gold (BTG), Goldcorp (GG), and New Gold (NGD) suffered due to the interest rate rise in last quarter of 2016.
The leveraged mining funds that also accurately follow precious metals include the Direxion Daily Gold Miners Fund (NUGT). The Proshares Ultra Silver (AGQ) also lost during that period, but both these funds have been recovering in 2017.