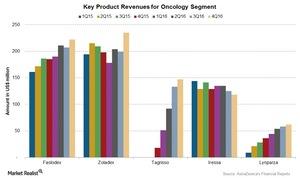 Growth of AstraZeneca's Oncology Segment in 2016
By Mike Benson

Updated
Oncology segment
The Oncology segment is another key focus area for AstraZeneca (AZN). The Oncology segment's revenues rose ~20% at constant exchange rates in 2016. The key products for oncology are Tagrisso, Zoladex, Faslodex, and Iressa. In this article, we'll explore AZN's key products and their performance.
Article continues below advertisement
Iressa
Iressa is a drug used for the treatment of lung cancer. Iressa's revenues fell 5% at constant exchange rates to $513 million in 2016, due to the lower sales in Europe and emerging markets.
Tagrisso
Tagrisso, a new drug for the treatment of metastatic non-small cell lung cancer, was approved 4Q15. Tagrisso was launched in the US in November 2015 and reported revenues of $423 million in 2016.
Article continues below advertisement
Lynparza
Lynparza is a drug used for the treatment of ovarian cancer. Lynparza was launched in the US in December 2014, followed by launches in 31 countries—including France and Germany—by the end of 2016. Lynparza's revenues totaled $218 million during 2016.
Zoladex
Zoladex is a drug used for the treatment of prostate cancer in men, and breast cancer or endometriosis in women. Zoladex's revenues were flat at $830 million at constant exchange rates during 2016, following growth in the US and emerging markets. Its revenues were substantially offset by lower sales in the European markets, as well as the Established Rest of the World markets.
Enantone from Takeda Pharmaceuticals (TKPYY) and Decapeptyl from Ipsen are among Zoladex's competitors.
Faslodex
Faslodex is used to treat post-menopausal women with advanced or metastatic breast cancer, as well as for patients who have been treated with endocrine therapy. Faslodex's revenues rose 19% at constant exchange rates to $830 million during 2016, following the increased demand in the US as well as outside the US markets. Nearly 47% of Faslodex's revenues are reported from outside the US.
Faslodex competes with drugs like Femara from Novartis (NVS), as well as Xeloda from Genentech, a Roche (RHHBY) company.
To diversify any company-specific risk, investors can consider the First Trust Value Line Dividend ETF (FVD). FVD holds ~0.5% of its total assets in AstraZeneca, 0.5% in Amgen (AMGN), and 0.5% in Abbott Laboratories (ABT).