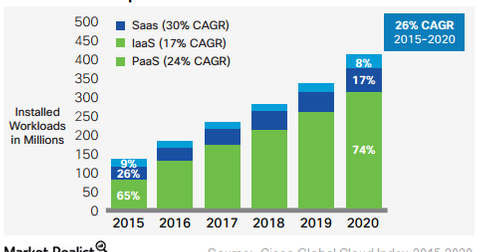 Understanding Microsoft and Peers' Growth Strategies
By Anne Shields

Updated
The most highly deployed global cloud service
Earlier in this series, we learned that technology players IBM (IBM), Salesforce (CRM), and Microsoft are vying for rapid growth in the CRM (customer relationship management) and AI (artificial intelligence) space.
According to Cisco Systems' (CSCO) Global Cloud Index, SaaS (software-as-a-service) workloads are expected to have the largest share. They are expected to grow at a CAGR (compound annual growth rate) of 30% and to have 74% of cloud workloads by 2020.
Article continues below advertisement
Though SaaS is a rapidly growing space, it's a fragmented space, with different companies dominating each segment. Tech companies such as Microsoft (MSFT), Salesforce, and Oracle (ORCL) have taken this factor into account, and rather than focusing on the entire SaaS space, they've focused on its subsegments.

Tech players' strategies to retain dominance
Article continues below advertisement
Oracle reported the highest growth in the SaaS space in calendar 2Q16, due to its dominance in the ERP (enterprise resource planning) space. Oracle's ERP Cloud grew 104% on a quarter-over-quarter basis in fiscal 2Q17, which marked the eighth straight quarter in which Oracle's ERP Cloud revenue grew more than 50% on a sequential basis. The strategic acquisition of Netsuite, which is the largest SaaS acquisition to date, strengthened Oracle's position in the SaaS and ERP space.
ERP grew the most in the SaaS space in calendar 2Q16, recording 49% growth and exceeding the 33% overall growth in SaaS. As more and more companies adopt the cloud route, the SaaS model will witness wider adoption, and this will lead to an expansion of CRM and ERP at a faster pace. This growth explains what is driving IBM, Salesforce, Microsoft, and Oracle to make significant investments in the SaaS space.