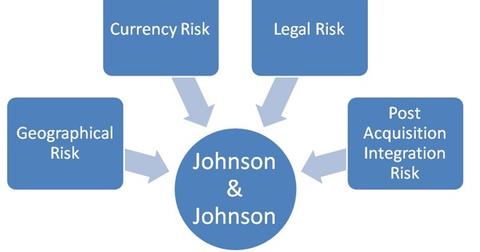 Understanding Johnson & Johnson's Medical Device Business Lawsuit Troubles
By Sarah Collins

Updated
Overview
The healthcare sector has always been exposed to litigation risks, including lawsuits related to patents, faulty products, and patient complaints. The majority of companies in this sector consistently have to face such litigations and bear some related economic expenses.
Product liability risk is one of the persistent risks that a medical device manufacturer faces. Major industry players including Stryker (SYK), Abbott Laboratories (ABT), and Medtronic (MDT) have faced numerous litigations in the past and have some pending. Johnson & Johnson (JNJ) has also faced many litigations over the years, the most serious of which being its faulty hip replacement system lawsuits.
Notably, investors can invest in the iShares Russell 1000 Value ETF (IWD) for diversified exposure to Johnson & Johnson. JNJ accounts for ~2.4% of IWD's total holdings.
Article continues below advertisement
Hip replacement litigations
According to JNJ's third quarter filings, "In the US, there were approximately 2,900 plaintiffs with direct claims in pending lawsuits regarding injuries allegedly due to the DePuy ASR XL Acetabular System and DePuy ASR Hip Resurfacing System, 9,300 with respect to the PINNACLE Acetabular Cup System, 53,400 with respect to pelvic meshes."
In 2013, JNJ stopped selling its Pinnacle devices after the patients started reporting the cases of complications and failure of the device. More than 10,000 lawsuits were filed against the company.
In 3Q16, ~$55 million litigation expenses related to its medical devices business were incurred by JNJ. In the first nine months of 2016, these expenses amounted to $731 million. In a recent verdict, JNJ's punitive damages of more than $1 billion payable toward six lawsuits related to its Pinnacle hip implants were halved to around $500 million.
Next, we'll look at JNJ's latest dividend announcement.