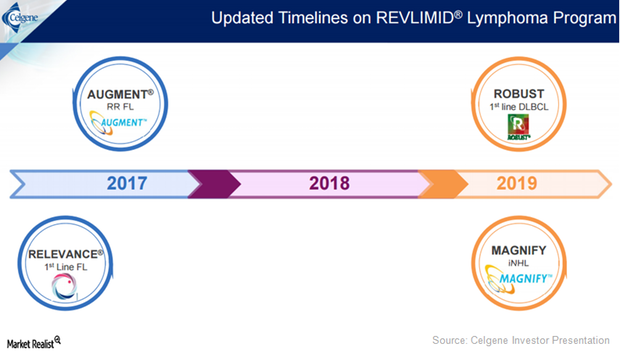 Celgene's Revlimid Expected to Post Strong Revenue in 2017
Revlimid's revenue trends
According to unaudited financial results published by Celgene (CELG) on January 9, 2017, Revlimid sales for 2016 are about $7.0 billion. That's a YoY (year-over-year) rise of about 20.0%. In 2017, the company expects Revlimid net sales to be $8.0 billion–$8.3 billion.
Below are some of the key drivers for Revlimid growth in 2017:
solid performance in its newly diagnosed multiple myeloma (or NDMM) segment
rapid adoption of Revlimid-based triplet regimens
extensive label expansion in multiple myeloma and other oncology indications
If Revlimid's revenues manage to surpass Celgene's financial guidance for 2017, it may have a positive impact on CELG stock. It could also affect the SPDR S&P 500 ETF (SPY). Celgene makes up about 0.46% of SPY's total portfolio.
Article continues below advertisement
Article continues below advertisement
Milestones for 2017
Revlimid has been explored for lymphoma indications for more than five years. There are major Phase 3 trial data readouts scheduled for 2017. Celgene expects to release data from its Phase 3 RELEVANCE trial, which is evaluating a combination of Revlimid and Rituxan in newly diagnosed follicular lymphoma (or FL) patients in 2017.
Data from its Phase 3 AUGMENT trial, which is testing a combination of Revlimid and Rituxan in relapsed/refractory FL patients, is also expected to be released in 2017. If these Phase 3 trials roll out positive data, it will enable Celgene to reach its long-term target of earning $1.0 billion–$1.5 billion from its lymphoma segment.
Celgene is also anticipating FDA (U.S. Food and Drug Administration) approval for Revlimid as a maintenance therapy for NDMM patients in 2017. The company also plans to submit an application seeking approval for Revlimid, Velcade, dexamethasone (or RVd) therapy for NDMM patients. Those approvals would enable Celgene to pose strong competition to other oncology players such as Johnson & Johnson (JNJ), Merck & Co. (MRK), and Bristol-Myers Squibb (BMY).
In the next part, we'll take a closer look at Celgene's multiple myeloma strategy.