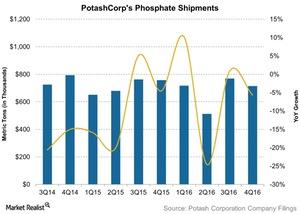 How PotashCorp's Phosphate Shipments Performed in 4Q16
By Adam Jones

Jan. 31 2017, Updated 7:36 a.m. ET
PotashCorp's phosphate shipments
PotashCorp's (POT) Phosphate segment contributed about 31.0% of the company's total sales in 4Q16. Like its Potash and Nitrogen segments (XLP), the Phosphate segment also experienced a fall in sales of 27.0%, excluding freight, transportation, and distribution, to $290.0 million in 4Q16.
Article continues below advertisement
Shipments fell
Overall shipments for PotashCorp's Phosphate segment fell 6.0% in 4Q16 to 0.72 million tons, from $0.76 million tons in 4Q15. Within the Phosphate segment, the Fertilizer subsegment's shipments were flat at 0.47 million tons. Shipments for the Feed and Industrial subsegment fell 14.0% to 0.24 million tons year-over-year in 4Q15.
Results for PotashCorp set the stage for expectations for other phosphate producers such as Mosaic (MOS), Agrium (AGU), and Israel Chemicals (ICL). We'll watch the earnings of these companies to get more information on phosphate demand (NANR).
2016 results
For 2016, PotashCorp's overall phosphate shipments fell 5.0% to 2.7 million tons, from 2.9 million tons in 2015. Once again, the Fertilizer subsegment's phosphate shipments were flat at 1.7 million tons. The Feed and Industrial subsegment's shipments fell 13.0% to 0.90 million tons year-over-year.
Unlike the Potash and Nitrogen segments, the Phosphate segment's shipments fell in 4Q16. Phosphate prices didn't move favorably in the quarter.
Next, let's look at phosphate prices in more detail.