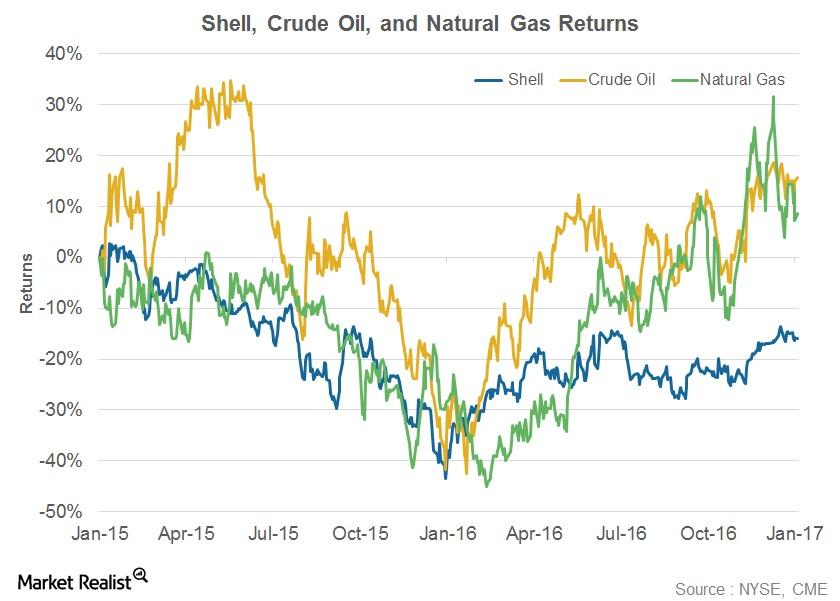 How Has Shell's Stock Performed ahead of Its 4Q16 Earnings?
Shell's stock performance
In the previous part of this series, we considered Royal Dutch Shell's (RDS.A) segment-wise outlook for 4Q16. In this article, we'll look at Shell's stock performance leading up to its 4Q16 results.
On January 20, 2016, Shell began recuperating from the falls it had experienced in the previous year. Shell has risen 49% since January 20, 2016. This rise has been the result of rising oil prices due to global supply outages and reductions along with oil producers' efforts to support prices.
Article continues below advertisement
Oil prices saw weakness in August 2016. Since September 20, 2016, however, oil prices have risen 22%. Shell has risen 17% in the same period. In December 2016, oil prices spiked on the news of production cuts by OPEC (Organization of the Petroleum Exporting Countries), also supported by Russia, a non-OPEC country.
Shell's peers Statoil (STO), Petrobras (PBR), and PetroChina (PTR) have risen 25%, 23%, and 22%, respectively, since September 20, 2016. If you're looking for global stock exposure, you can consider the Vanguard Total World Stock ETF (VT). The ETF has 57% exposure to North American stocks.
Overall, since January 23, 2015, Shell has fallen 16%. During the same period, crude oil and natural gas prices have risen 16% and 9%, respectively. The correlation coefficient of Shell's stock with WTI for the past 12 months is 0.67, meaning that on average, 67% of the movements in Shell's stock price can be explained by changes in WTI's price. Shell's correlation with natural gas is 0.05, representing a weaker correlation.