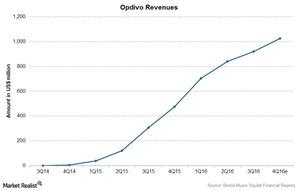 How Bristol-Myers Squibb's Oncology Drug Performed in 4Q16
By Mike Benson

Jan. 24 2017, Updated 10:38 a.m. ET
BMY's oncology drug
Bristol-Myers Squibb's (BMY) latest drug, Opdivo, was the seventh drug to be approved by the FDA for the treatment of melanoma. Apart from melanoma, the drug is also approved for the treatment of lung cancer. Opdivo's revenue is estimated to be over $1.0 billion in 4Q16, compared to $475 million in 4Q15.
Article continues below advertisement
What Opdivo means to BMY
Oncology drug Opdivo is a blockbuster drug and is expected to be one of BMY's major revenue contributors in the next five years. This drug has already been approved for the treatment of melanoma, lung cancer, and renal cell carcinoma (or kidney cancer). It's also been approved for expanded use for the treatment of previously treated non-small cell lung cancer.
Opdivo developments in global markets
In US markets, lung cancer treatment is an important opportunity for Bristol-Myers Squibb, as BMY is the first company to market drugs for squamous cell cancer. Opdivo has already been added as a treatment for non-squamous cell carcinoma.
Opdivo's latest developments include the following:
On January 19, 2017, the company announced the results of its ONO-4538-12 Phase III study evaluating the survival rates of Opdivo for patients with previously treated gastric cancer.
On January 5, 2017, the company entered into an agreement with Johnson & Johnson's (JNJ) subsidiary Janssen Biotech to evaluate Opdivo as a combination drug with JNJ's Darzalex for the treatment of multiple myeloma and other solid tumors.
On December 21, 2016, the company announced a collaboration with Calithera Biosciences (CALA) to evaluate Opdivo with Calithera's CB-839 for the treatment of patients with clear cell renal cell carcinoma.
The European Commission approved Opdivo for the treatment of patients with relapsed or refractory classical Hodgkin lymphoma on November 22, 2016.
The FDA has approved Opdivo for the treatment of head and neck cancers. Opdivo is the first immuno-oncology treatment to receive FDA approval based on the overall survival rates from the Checkmate-141 study
Other drugs used for the treatment of melanoma are Merck & Co.'s (MRK) Intron A, Sylatron, and Keytruda, Novartis's (NVS) Proleukin, GlaxoSmithKline's (GSK) Mekinist and Tafinlar, and Roche's Zelboraf. 
To divest their risk, investors may want to consider ETFs such as the iShares S&P Global Healthcare ETF (IXJ), which holds 2.4% of its assets in Bristol-Myers Squibb.