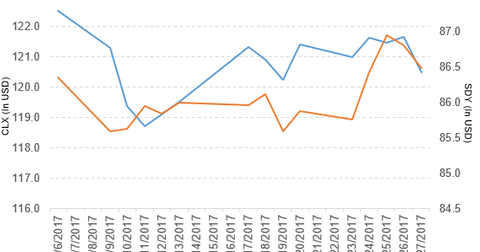 Clorox Company Elects New Board of Directors
By Gabriel Kane

Updated
Price movement
The Clorox Company (CLX) has a market cap of $15.6 billion. It fell 0.95% to close at $120.49 per share on January 27, 2017. The stock's weekly, monthly, and year-to-date (or YTD) price movements were -0.11%, -0.53%, and 1.1%, respectively, on the same day.
CLX is trading 0.21% above its 20-day moving average, 2.5% above its 50-day moving average, and 2.9% below its 200-day moving average.
Latest news on CLX
Russell J. Weiner was elected to Clorox Company's board of directors, effective February 6, 2017.
Performance in fiscal 1Q17
Clorox (CLX) reported sales of $1.4 billion for fiscal 1Q17, which ended on September 30, 2016. The company's sales for the quarter were 1.0% higher than consensus analysts' sales estimates for fiscal 1Q17.
Clorox's sales rose 4% on a year-over-year basis. The company experienced an 8% rise in its fiscal 1Q17 volumes, driven by the positive impact of the acquisition of the RenewLife Digestive Health business in May 2016.
Aside from higher volume, its fiscal 1Q17 sales also benefited by more than 1% from higher pricing in its International business. The company's fiscal 1Q17 sales growth was offset by an unfavorable mix, a rise in trade spending, and the negative impact of the foreign exchange rate.
The company's gross profit margin fell to 44.4% in fiscal 1Q17 from 45.0% in fiscal 1Q16. The fall in the gross margin was due to inflationary pressure on manufacturing and logistics costs, the timing of strategic investments, an unfavorable product mix, and the negative impact of foreign exchange. However, it was offset by cost savings, favorable commodity costs, and higher pricing in international markets.
Clorox delivered adjusted EPS (earnings per share) of $1.36 in fiscal 1Q17. It missed consensus analysts' earnings estimate of $1.42. Clorox's fiscal 1Q17 adjusted EPS rose 3.0% due to higher sales and cost savings.
The adjusted EPS excludes the impact of one-time items such as a $0.04 gain associated with the adoption of an accounting standard update (ASU 016-09) related to employee share-based payments.
The fiscal 1Q17 adjusted EPS was impacted negatively by higher manufacturing and logistics costs and unfavorable movements in foreign exchange rates.
For an ongoing analysis of this sector, please visit Market Realist's Consumer Discretionary page.