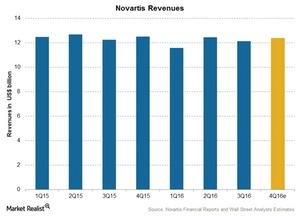 Analysts Expect Negative Growth for Novartis in 4Q16
Novartis's revenue estimates
Analysts expect an ~1.1% decline in Novartis's (NVS) 4Q16 revenues to ~$12.4 billion following the effects of the acquisition and divestiture of several products. These factors should have a long-term effect, and analysts estimate a 1.3% decline in its 2016 revenues to ~$48.8 billion compared to ~$49.4 billion for 2015.
The above chart shows actual revenues and analysts' estimates for Novartis since 1Q15. Later in this series, we'll discuss the factors that affect these expectations for future revenues.
Article continues below advertisement
Article continues below advertisement
Segment-wise expectations for 4Q16
Since 2014, Novartis (NVS) has divested its business segments, including its Animal Health business to Eli Lilly and Co. (LLY). It divested part of its Vaccines business and its Consumer Healthcare business to GlaxoSmithKline (GSK), as well as its Influenza Vaccines business to the CSL Group.
Novartis also acquired GlaxoSmithKline's Oncology business in March 2015. According to its new structure, Novartis's business is divided into three business segments:
Innovative Medicines, previously referred to as the Pharmaceuticals segment, under the brand Novartis
Generics Pharmaceuticals business under the brand Sandoz
Eye Care business under the brand name Alcon
The Innovative Medicines revenues have shown a shift in the segment's product performance. For 4Q16, its products Gilenya, Tasigna, Tafinlar, Mekinist, Jakavi, Afinitor, Xolair, and the COPD portfolio are expected to surpass the decline in sales of its products like Diovan monotherapy, Exforge, and Vivelle-Dot due to the competition from generics.
Ophthalmic Pharmaceuticals products such as Patanol were transferred from Alcon to Innovative Medicines, and these products are expected to impact revenues negatively due to generic competition. We'll discuss these products and therapeutic areas later in this series.
Sandoz is expected to be driven by the strong performance of key products in 4Q16, including dermatology products, biosimilars, and new products like Glatopa. However, price erosion may impact Sandoz's growth during 4Q16.
Alcon is expected to report a decline in revenues across all three franchises, including Surgical Sales, Ophthalmic Pharmaceuticals, and Vision Care products. This decline would be mostly due to strong competition from Johnson and Johnson's (JNJ) Acuvue products, as well as other competitors.
Investors can consider ETFs like the First Trust Value Line Dividend ETF (FVD), which holds 0.5% of its total assets in Novartis (NVS).