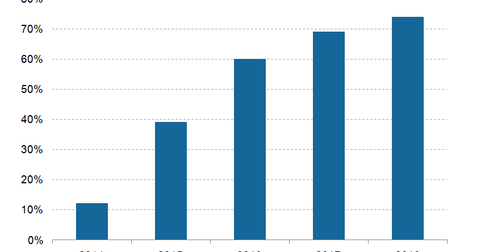 Why Programmatic Ads Are a Double-Edged Sword for Google
By Puneet Sikka

Updated
The future of digital marketing campaigns
Programmatic ads are the technological framework for conducting automatic real-time auctions of display ads. Google's (GOOG) programmatic ad business includes DoubleClick Ad Exchange and DoubleClick Bid Manager.
Google (GOOGL) has recently mentioned that advertisers have started to adopt programmatic ads for digital marketing campaigns in increasing numbers. According to an October 2016 report from eMarketer, 60% of the US digital video ad spending will come through programmatic channels in 2016. This number has risen from 39% in 2015 and could reach 74% by 2018. The report also mentions that programmatic will account for an even bigger number at 73% in 2016, given US digital display ad spending.
Article continues below advertisement
Higher TAC for Google
Google considers programmatic ads to be a main revenue growth driver along with mobile searches. Google's Partner Select program represents a "programmatic premium video marketplace" that helps publishers monetize their video content. But programmatic ads carry higher TAC (traffic acquisition costs), and for this reason, the percentage of TAC of revenues have gone up for Google, making programmatic ads a true double-edged sword for Google.