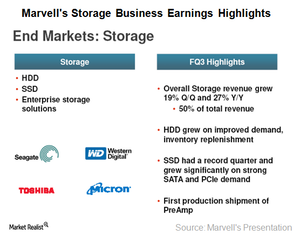 What's in Store for Marvell in the Storage Space?
By Puja Tayal

Updated
Marvell's storage segment
Marvell Technology Group's (MRVL) Storage segment accounted for 50% of the company's revenue in fiscal 3Q17. The segment's offerings include DRAM-less (dynamic random access memory) solutions, custom ASICs (application specific integrated circuits), mainstream client products with firmware, SSDs (solid state drives), and HDDs (hard disk drives).
Article continues below advertisement
Storage segment's earnings highlights
In fiscal 3Q17, MRVL's Storage segment's revenue rose 27% YoY (year-over-year) to $328 million, driven by strong demand for both HDD and SSD solutions. SSD sales reached a record high in fiscal 3Q17 and now account for 20% of the storage revenue. Notably, fiscal 3Q is a seasonally strong quarter for storage, and this was visible from the 19% sequential growth in fiscal 3Q17 revenue.
MRVL's fiscal 3Q17 revenue also included $60 million in storage shipments deferred from fiscal 2Q17. If we divide this $60 million revenue equally between fiscal 2Q and 3Q17, fiscal 3Q17 revenues actually rose 21% YoY.
During the same quarter, rivals Seagate (STX) and Western Digital (WDC) reported sequential revenue growth of 5.4% and 19%, respectively. Western Digital's growth was largely driven by the acquisition of SanDisk.
For fiscal 4Q17, Marvell expects storage revenue to fall sequentially as seasonal demand fades but stay above the fiscal 4Q16 revenue of $290 million.
Marvell's strategy for storage
Marvell is looking to expand its storage solutions in high-margin markets of enterprise and the cloud. In the HDD space, it plans to expand in the high-margin cloud and enterprise storage while maintaining its leading position in client drives. It aims to do so by developing higher performance solutions and building strong OEM (other equipment manufacturers) relationships.
In the SSD space, the company aims to leverage its broad portfolio and expand it further to include enterprise solutions that meet standards ranging from SAS (Serial Attached SCSI (Small Computer System Interface)) and SATA (Serial Advanced Technology Attachment) to PCIe (Peripheral Component Interconnect Express).
Storage market outlook
Gartner expects the enterprise SSD revenue to grow at a CAGR (compounded annual growth rate) of 20% and HDD revenue to grow at a rate of 4% between 2015 and 2019. Marvell is preparing to tap this growth opportunity.
Now let's look at Marvell's second key market: networking.