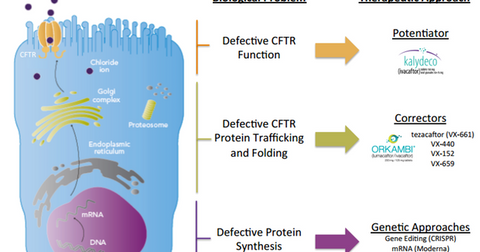 Vertex Has Adopted Multiple Approaches to Treat Cystic Fibrosis
By Margaret Patrick

Updated
Cystic fibrosis market
Below are Vertex Pharmaceuticals' (VRTX) two major long-term goals:
increase the number of patients eligible to be treated with the company's drugs to include the entire cystic fibrosis (or CF) patient population
maximize the benefit that each patient can receive from its therapies
The company is confident that these targets will be achieved if it succeeds in demonstrating the efficacy of its triplet regimens.
According to Vertex Pharmaceuticals' 10K filing, "CF is caused by a defective or missing CFTR protein resulting from mutations in the CFTR gene. To develop CF, children must inherit two defective CFTR genes, which are referred to as alleles – one from each parent. There are more than 1,900 known mutations in the CFTR gene, some of which result in CF, including two of the most prevalent mutations, the F508del mutation and the G551D mutation."
Vertex Pharmaceuticals aims to target all CF patients with one or two defective F508 mutations in the CFTR (cystic fibrosis transmembrane conductance regulator) genes. That involves around 80.0%–90.0% of the CF patient population.
If the company is successful in achieving its goals, it may have a positive impact on the share prices of Vertex Pharmaceuticals as well as the iShares Core S&P 500 (IVV). Vertex Pharmaceuticals makes up about 0.10% of IVV's total portfolio holdings.
Article continues below advertisement
Multiple approaches
The above diagram shows the various approaches being employed by Vertex Pharmaceuticals to extend its reach to the entire CF population. Vertex Pharmaceuticals has categorized the entire CF population into the following three segments:
The first category involves patients in which the CFTR protein works in a defective manner. These patients can be treated with potentiator drugs such as Kalydeco.
The second category involves patients whose CFTR protein doesn't traffic or fold as required. These patients are treated with Orkambi. Since correcting this abnormality involves multiple steps, Vertex Pharmaceuticals is developing second-generation correctors such as VX-440, VX-152, and VX-659.
The third category involves about 10.0% of CF patients who don't have any CFTR protein. These patients can't be treated with potentiators or correctors. Vertex Pharmaceuticals is analyzing gene editing technologies in collaboration with CRISPR Therapeutics to treat these patients. The company is also collaborating with Moderna Therapeutics to explore mRNA (messenger ribonucleic acid) technology for CF patients.
Successful implementation of these approaches is expected to enable Vertex Pharmaceuticals to pose strong competition to other orphan disease players such as Alexion Pharmaceuticals (ALXN), Amgen (AMGN), and BioMarin Pharmaceutical (BMRN).
In the next and final part of our series, we'll explore VX-661, Vertex Pharmaceuticals' research program.