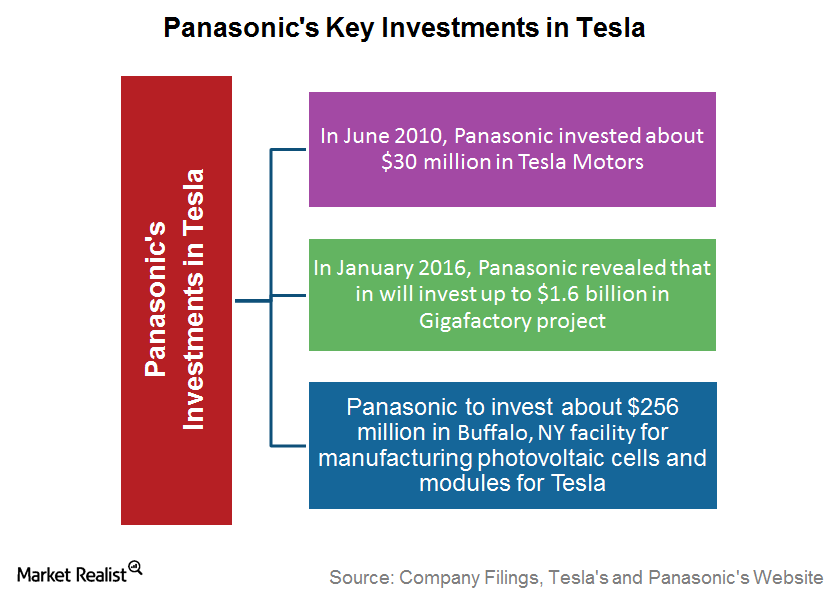 Why Is Tesla's Association with Panasonic Important?
Tesla Motors
Tesla Motors (TSLA) started its journey about 13 years ago with a vision to encourage sustainable transport. In its initial years, the company collaborated with Japan's Panasonic to produce the highest energy density EV (electric vehicle) battery packs. Since then, the Tesla-Panasonic partnership has come a long way. Let's take a look at some key milestones in their relationship.
Article continues below advertisement
Article continues below advertisement
Tesla-Panasonic partnership
In 2009, Panasonic signed an agreement to supply lithium-ion battery cells to Tesla Motors for its electric vehicles. In June 2010, Panasonic invested about $30 million in Tesla Motors. Tesla collaborated with Panasonic to develop the next generation of battery cells for EVs. Tesla chose Panasonic as its preferred lithium-ion battery cell supplier for battery packs to be used in Tesla EVs.
In 2011, when Tesla was preparing for the mass production of its Model S, Panasonic entered an agreement with the company to supply cells in 2012. Panasonic assured Tesla of the timely availability of these cells to fulfill all Model S orders. In the coming years, the Tesla-Panasonic partnership deepened with more agreements.
Role in Gigafactory and solar business
In 2014, Tesla started constructing its ambitious Gigafactory in Nevada. Gigafactory is expected to have an annual battery production capacity of 35 GWh (gigawatt-hours). It's being built in cooperation with Panasonic and other strategic partners. In January 2016, Panasonic revealed that it will invest up to $1.6 billion in the Gigafactory project.
Cost reduction is the key for Tesla to make its Model 3 affordable for a large number of people and generate profit. That's why Gigafactory is so important for Tesla. It should bring down the cost of Model 3 battery packs with economies of scale.
Note that Tesla's efforts to mass produce a low-priced EV attracted mainstream automakers' (IYK) attention lately. In the last few years, General Motors (GM), Ford (F), and Honda (HMC) also accelerated their EV development programs.
Tesla's recent agreement with Panasonic for the solar energy business (as we discussed in Part 1) made it clear that their association isn't just limited to cells and battery manufacturing. Panasonic's investments in Tesla's automotive and solar energy business show its optimism about Tesla's future growth potential.
Next, we'll discuss why Tesla might get support from Trump's administration.