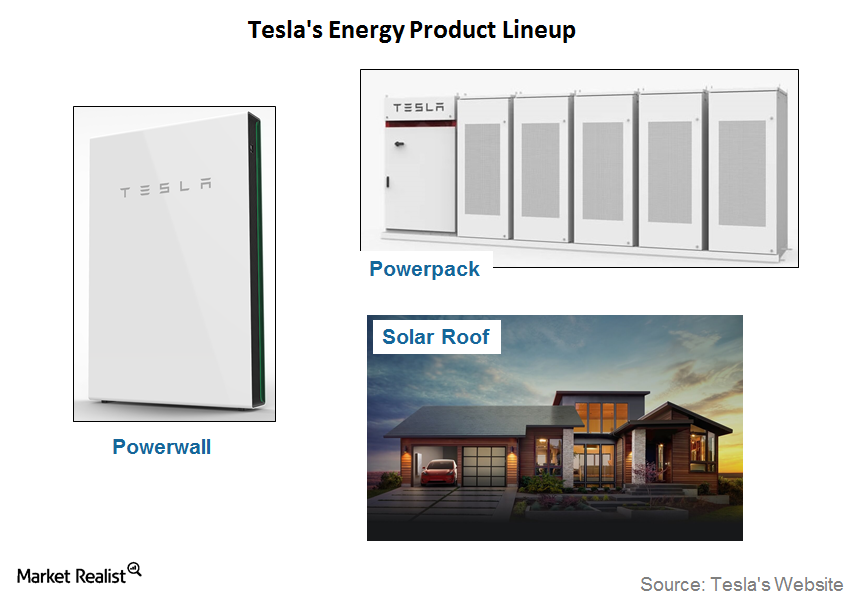 Analyzing Tesla's Updated Energy Products
Tesla energy products
Tesla Motors (TSLA) initiated its journey as an automaker (IYK) more than a decade ago. However, the company unveiled Powerwall, its first energy product, in 2015. Since then, the company has been working to expand its energy product lineup. Now, after the acquisition of SolarCity, we can expect Tesla to speed up these efforts. Let's take a closer look at Tesla's current energy product lineup.
Article continues below advertisement
Article continues below advertisement
Tesla Powerwall
Tesla launched its Powerwall, part of its Tesla Energy product portfolio, in 2015. Powerwall is a wall-mounted rechargeable energy storage device that can be used to store solar or grid energy and power homes at night. For large commercial spaces, the company offers Powerpacks that can store a much higher amount of energy. Tesla expects to start mass producing its Powerwalls and Powerpacks after the completion of its Gigafactory.
In October, Tesla unveiled the second version of the Powerwall and Powerpack. The second version comes with higher energy storage capacity. The Powerwall-2 comes with 14 kWh (kilowatt-hours) capacity and 7kW output. Similarly, Powerpack-2 also increased its capacity to 210 kWh with an output of 50kW.
These energy storage devices look much better that traditional large batteries that are currently available in the market. They take comparatively less space and last longer than traditional batteries. It's the key USP (unique selling proposition) for Tesla's Powerwalls and Powerpacks.
Tesla's Solar Roof
Last month, Elon Musk, the CEO of Tesla Motors, unveiled another energy product called "Solar Roof" in collaboration with SolarCity (SCTY). The product is made of textured, slate, smooth, and Tuscan glass tiles with integrated solar cells. The company claims that these solar roof tiles look much better than traditional roof tile and can effectively capture solar energy. Just like the USP of Tesla's Powerwall and Powerpack, Tesla's Solar Roof also has a USP including better looks, durability, and a longer life than traditional roof tiles.
Note that SolarCity, which merged with Tesla, faces competition from companies (TAN) like Sunrun (RUN), Vivint Solar (VSLR), and SunPower (SPWR).
In the next part, we'll discuss what to expect from Tesla's energy business in the future.