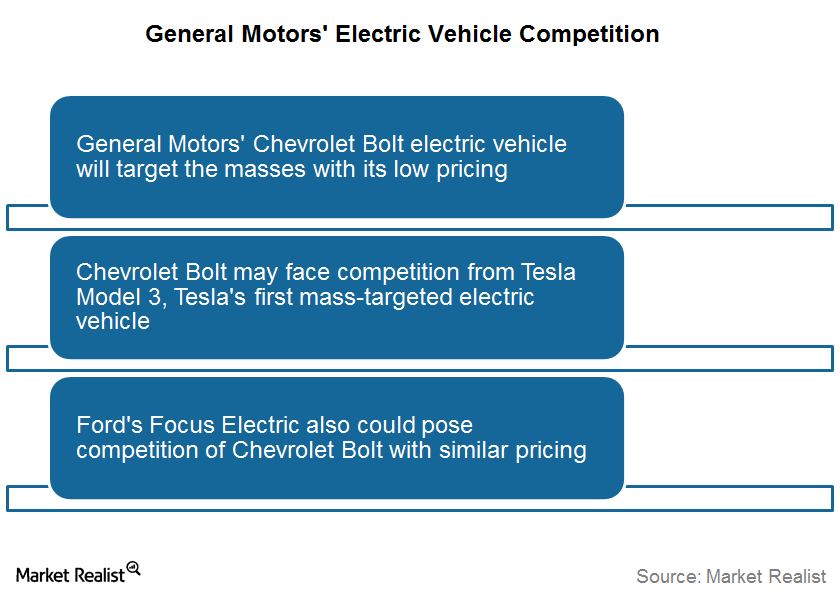 Where Does General Motors Stand in the Electric Vehicle Segment?
Electric vehicle segment
Today, auto industry dynamics are changing at a very fast pace. To stay ahead of the competition, automakers (XLY) need to innovate and implement faster than their competitors.
Companies such as Tesla (TSLA) and Nissan have already demonstrated the potential of the electric vehicle (or EV) segment. In this article, we'll talk about General Motors' (GM) plans to expand its electric vehicle portfolio in the coming years.
Article continues below advertisement
General Motors' electric vehicles
In 2015, General Motors introduced the second-generation Chevrolet Volt. Including this, the company currently has a total of five vehicles with some form of electrification in its US market portfolio. In the coming years, GM will expand its presence in the electric vehicle segment with car models such as the Chevrolet Volt and the Cadillac ELR.
General Motors plans to launch its all-electric model, the Chevrolet Bolt, in 2017. The car, which may be priced around $30,000 after federal incentives, is estimated to have a 200-mile range. The Chevrolet Bolt will be a mass-targeted EV. The production of the vehicle is expected to begin in late 2016 at the company's Orion assembly plant.
According to the company, it's working to develop plug-in hybrid electric vehicle (or PHEV) technology.
GM's competition in the EV segment
General Motors is likely to face stiff competition from Tesla Motors' Model 3, which is scheduled to be unveiled on March 31, 2016. Tesla expects the delivery of Model 3 to begin in late 2017. General Motors also plans to begin the delivery of its Chevrolet Bolt around the same time but before Tesla's Model 3.
Recently, Ford Motor Company (F) also revealed its plans to expand its electric vehicle portfolio by adding 13 new electric vehicles by 2020. At present, Ford is taking orders for its 2016 Focus Electric, which has an MSRP (manufacturer's suggested retail price) of $29,000. This vehicle also could pose competition to General Motors' Chevrolet Bolt.
Meanwhile, Japanese auto giants Toyota Motor (TM) and Honda Motor Company (HMC) have also begun taking an interest in electric vehicle development. Going forward, it will be interesting to see how General Motors could differentiate its Chevrolet Bolt from the competition.