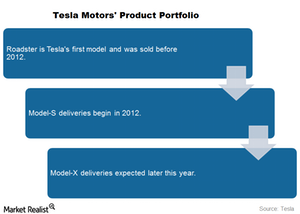 Understanding Tesla Motors's Product Portfolio
Tesla's product portfolio
Previously, we explored Tesla's marketing and distribution strategy. We saw the advantages and disadvantages of going with a company-owned distribution network. Now, we'll take a look at Tesla's product portfolio.
For now, Tesla (TSLA) offers only the Model-S to its customers. Model-X is expected to hit the roads sometime later this year, while Tesla's proposed mass-market brand, which would be named Model-3, is still a couple of years away.
The iShares Russell 1000 Growth ETF (IWF) invests approximately 0.21% of its portfolio in Tesla. The fund also invests about the same amount in AutoZone (AZO) and in Delphi Automotive (DLPH).
Article continues below advertisement
Article continues below advertisement
Tesla Model-S
Only two of Tesla's cars have hit the road—Roadster and Model-S. Roadster was more of a limited edition and was sold before 2012. Since then, Tesla has offered Model-S, having sold more than 50,000 units so far.
Tesla vehicles have received excellent reviews from customers. The innovative features Tesla offers make its product an aspirational car. To add to that, Tesla has received the highest safety ratings from the National Highway Traffic Safety Administration.
Model-X
Tesla's Model-X is expected to hit the roads later this year. According to Tesla, "Model X combines the space and functionality of a seven-seat sport utility vehicle with the uncompromised performance of a Tesla."
Tesla has been able to build a good brand in the market space, with its products generating the same enthusiasm seen among customers of new Apple (AAPL) products. In fact, Tesla is pitched against luxury carmakers including BMW.
However, the key to Tesla's success would be to build a mass-market electric vehicle. The company is in the process of developing a mass-market brand, which could hit the road in late 2017. We'll discuss this brand in detail in the next part of the series.