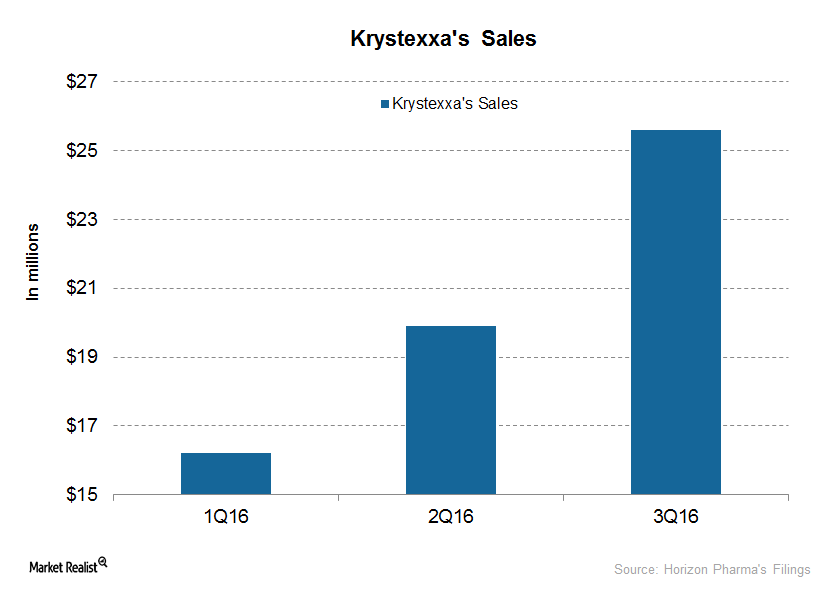 Revenue Drivers for Krystexxa, Horizon's Orphan Biologic Drug
How did Krystexxa perform in 3Q16?
As part of Horizon Pharma's (HXNP) acquisition of Crealta Holdings in January 2016, Horizon gained access to Krystexxa. Krystexxa is the only FDA (U.S. Food and Drug Administration) approved therapy for treating refractory chronic gout. The drug is sold by both the Rheumatology and Orphan Drug segments. Horizon, BioMarin Pharmaceutical (BMRN), Alexion Pharmaceuticals (ALXN), and Shire (SHPG) operate in the rare disease space.
Krystexxa generated sales of $25.6 million in 3Q16. On a QoQ (quarter-over-quarter) basis, sales rose 29.0%. For more on Krystexxa, please read Introducing Krystexxa, the Latest Addition to Horizon's Orphan Portfolio.
Article continues below advertisement
What are the revenue drivers for Krystexxa?
Horizon plans to drive Krystexxa through increased awareness and outreach. The company is investing heavily in the drug's marketing and medical education as well as its commercial infrastructure.
It also expects to fuel growth for the drug by addressing its immunogenicity through the TRIPLE trial and increasing benefit investigations. Horizon's new patient access managers provide support to new accounts and direct new patients and physicians to the infusion and reimbursement processes.
Market opportunity for Krystexxa
Horizon Pharma estimates that refractory chronic gout affects 40,000–50,000 patients in the United States. It expects the peak annual sales potential of Krystexxa to be more than $250.0 million.
TRIPLE trial for Krystexxa
The purpose of the TRIPLE trial is to evaluate the immunogenicity associated with Krystexxa from a safety and efficacy perspective. The trial is expected to expand Krystexxa's clinical profile.
To avoid the ups and downs associated with Horizon's stock price, you can invest in ETFs such as the iShares US Healthcare (IYH). Horizon accounts for 0.09% of IYH's total holdings.
In the next part, we'll look at Horizon's revenue projections after 2016.