Introducing Krystexxa, the Latest Addition to Horizon's Orphan Portfolio
In January 2016, Horizon acquired Krystexxa from Crealta Holdings. The drug has been approved by the FDA for the treatment of chronic refractory gout.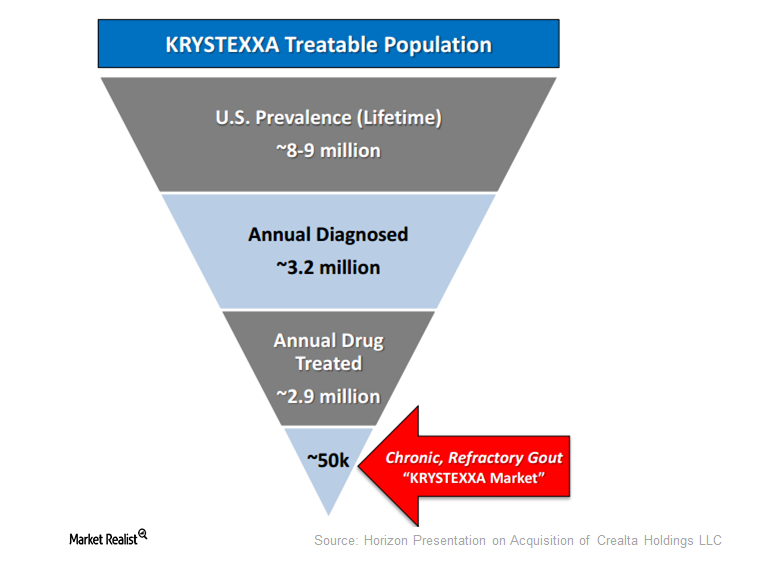 Krystexxa
In January 2016, Horizon Pharma (HZNP) acquired Krystexxa from Crealta Holdings. The drug changed many hands before coming to Horizon, and it's the first and only therapy approved by the FDA (US Food and Drug Administration) for the indication of chronic refractory gout that has not yet been marketed in the European Union (though it's been approved there).
The drug has a target orphan population of 40,000–50,000 patients. During 2016, the company expects an addition of $70 million–$80 million in sales from the drug, and Horizon believes the drug has an opportunity of more than $250 million in peak sales.
Gout is a common type of inflammatory arthritis that is characterized by higher serum uric acid levels. The drug has a unique mechanism of action wherein "it changes uric acid and the source of uric acid crystals into a water-soluble substance, which the body can then excrete through urine."
Article continues below advertisement
Article continues below advertisement
Patent protection for Krystexxa
Krystexxa's orphan drug exclusivity will expire in February 2018, however, although its biologic exclusivity will last until 2022. The drug has patent protection that will last until 2027, and so the company plans to fuel the drug's growth by increasing promotion and expanding its clinical profile. With the expansion of Krystexxa's account management team from 15 to 85 by fiscal 2Q16, the company plans to clarify the efficacy of the drug in appropriate patients.
Notably, the drug competes with AstraZeneca's (AZN) Zurampic, Takeda Pharmaceuticals' (TKPYY) Uloric, and GlaxoSmithKline's (GSK) Zyloric. Horizon has initiated a TRIPLE study for Krystexxa. In this study, the company is "increasing the frequency of the dosing from every other week to every week for the first three weeks of treatment with the intent to reduce immunogenicity." If the study turns out to be successful, Horizon plans to develop a potential registration study for a label expansion for the drug.
To get exposure to Horizon while controlling excessive company-specific risks, investors can choose to invest in the iShares Nasdaq Biotechnology ETF (IBB), which has 0.53% of its total holdings in Horizon.
For ongoing analysis, keep checking in with Market Realist's Pharmaceuticals page.