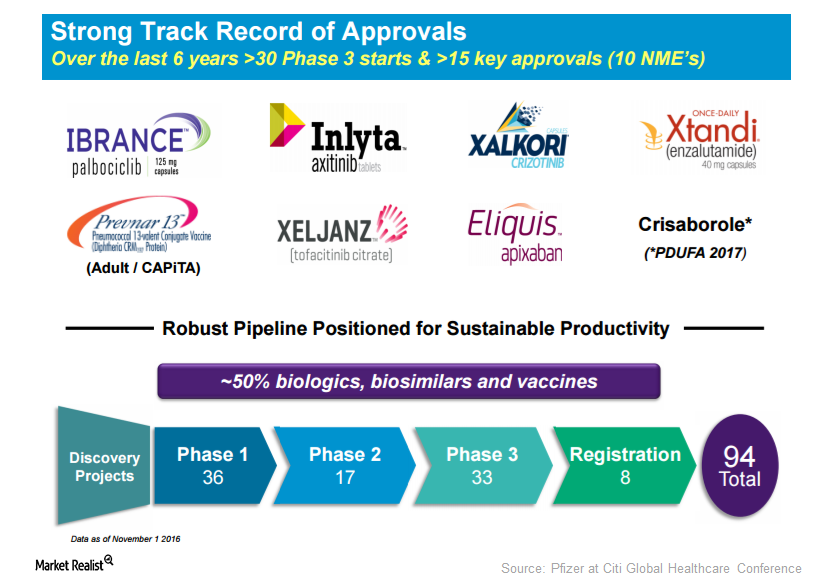 Pfizer Has Strong Track Record since 2010
Pfizer's key approvals since 2010
Since 2010, Pfizer (PFE) has gained 20 key approvals. The major growth drivers that were approved during this six-year period include Ibrance, Prevnar 13, Inlyta, Xalkori, and Xeljanz. Additionally, following the Medivation and Anacor acquisitions, Pfizer added pipeline assets Xtandi and Crisaborole to its portfolio. For more information on these two acquisitions, read What Investors Should Know about the Pfizer-Anacor Deal.
Article continues below advertisement
Pfizer's robust pipeline program
As of November 1, Pfizer had ~94 projects in various development stages. More than 40% of these projects are in phase three or the registration phase. Of the total pipeline projects, Pfizer has 36 projects in phase one and 17 projects in phase two.
Two-thirds of the pipeline projects are NMEs (new molecular entities), which are equally distributed between small molecules and biologicals. Despite the robust pipeline, Pfizer is trading at a discounted valuation and presents a good investment opportunity. If you want to understand factors behind Pfizer's discounted valuation, read Listing the Reasons behind Pfizer's Discounted Price-to-Earnings.
The iShares Dow Jones US Healthcare ETF (IYH) offers exposure to Pfizer. IYH has 7.1% of its total holdings in Pfizer. IYH has holdings in Johnson & Johnson (JNJ), Merck (MRK), and Amgen (AMGN). IYH invests 11.5%, 6.2%, and 4% of its holdings in JNJ, MRK, and AMGN, respectively.
Continue to the next part to learn about Pfizer's accomplishments in 2016.