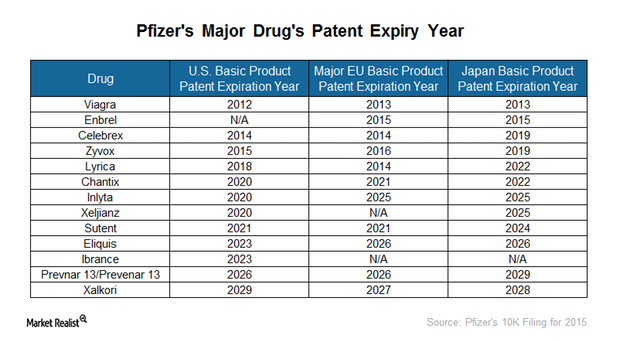 Loss of Patent Protection to Drag Pfizer's Top Line
Pfizer's key products went off patent
Pfizer (PFE) is struggling to revive its top line growth. With the loss of patent protection for its flagship drug, Lipitor, Pfizer's revenue fell to $48.8 billion in 2015, compared to $67 billion in 2010. Lipitor was a major contributor for Pfizer, adding $10.7 billion in revenue to its top line in 2010. However, following its generic availability, the drug's revenue fell to $1.9 billion in 2015.
With multiple drugs in line to lose patent protection, investors are cautious regarding the impact of revenue and profitability on Pfizer's bottom line over the next two years.
Article continues below advertisement
What are Pfizer's challenges over the next two years?
After Lipitor, Pfizer is again set to lose patent protection for two of its major drugs, Lyrica and Viagra. In fact, Lyrica lost regulatory exclusivity in Europe in 2014. It will lose its basic product patents in the United States and Japan in 2018 and 2020, respectively. In the next article, we'll discuss the importance of Lyrica to Pfizer's profitability.
Viagra lost its basic product patent in the United States in 2012. In 2013, Viagra lost patent protections in Europe and Japan as well. Though Viagra is protected through a method-of-treatment patent in the United States until 2020, Teva Pharmaceutical (TEVA) can launch its copycat version of the drug in the United States in December 2017. Viagra added $1.2 billion to Pfizer's top line during the first nine months of 2016.
For a look at Pfizer's other businesses that are under pressure, read Why Pfizer's Vaccines Business Is Declining.
Patent protection for current growth drivers
Pfizer's Sutent has patent protection until 2021, while Xeljanz and Chantix are protected until 2020. The company's growth driver, Ibrance, is protected until 2023. To overcome the hurdles of patent expiries and revenue losses, Pfizer has added key growing drugs through multiple acquisitions over the last year. To learn more about Pfizer's major acquisition of Medivation in 2016, read What's the Story behind the Pfizer-Medivation Deal? If Pfizer successfully integrates these businesses, it should resume revenue growth.
Along with Pfizer, AbbVie (ABBV) and Roche (RHHBY) are also expected to face threats of biosimilar or generic availabilities for their key drugs.
By investing in the SPDR S&P Pharmaceuticals ETF (XPH), you can enjoy exposure to Pfizer. XPH holds 4.4% of its assets in Pfizer.