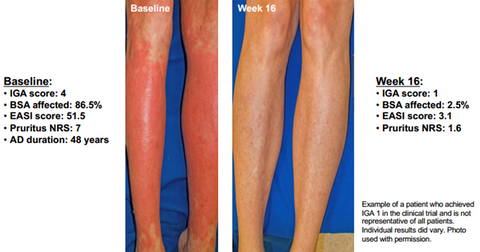 Dupixent: Leading Therapy for Atopic Dermatitis in the Future?
By Margaret Patrick

Updated
Atopic dermatitis treatment options
Currently, for mild AD (atopic dermatitis), patients are treated with emollients and skin hydration gels. Patients suffering from mild to moderate AD are treated with topical corticosteroids with the basic treatment regimen of emollients and skin hydration agents. Systemic treatments and ultraviolet therapy are used to treat patients suffering from moderate to severe AD. However, these therapies haven't been studied extensively. The therapies might result in other adverse events in patients.
Article continues below advertisement
Since existing treatment options for AD aren't very effective or tolerated well by the entire patient population, Regeneron (REGN) and Sanofi's (SNY) Dupixent might become a preferred regimen in the future. The investigational drug is expected to target a significant unmet demand in the AD space. It's expected to become a long-term solution for patients suffering from the disease.
If Dupixent manages to become a successful AD therapy, it might have a positive impact on Regeneron's share prices as well as those of the Health Care Select Sector SPDR Fund (XLV). Regeneron accounts for about 1.1% of XLV's total portfolio holdings.
Clinical trial results
The above diagram shows that after treatment with 300 mg of Dupixent (Dupilumab) on a weekly basis for 16 weeks, patients suffering from severe AD managed to get relief from all of the key symptoms of the disease.
On October 1, 2016, Regeneron and Sanofi released positive results from Phase 3 trials, LIBERTY AD SOLO 1 and SOLO 2. The trials evaluated the efficacy of an investigational drug, Dupixent, as a monotherapy, in patients suffering from moderate to severe AD. The average improvement in skin-related scores which also involved relief from incessant itching, as demonstrated in these trials, was around 70%. About 40% of the patients managed to witness clearing or near-clearing of skin lesions. Finally, there weren't any reported cases of immunosuppression. In these trials, adverse events were also limited to injection site reactions and conjunctivitis.
Solid results from the Phase 3 trials of Dupixent might enable Regeneron to diversify its business model—similar to other biotechnology peers such as Amgen (AMGN), Gilead Sciences (GILD), and Celgene.
In the next part, we'll analyze the results from the SOLO 1 and SOLO 2 trials in more detail.