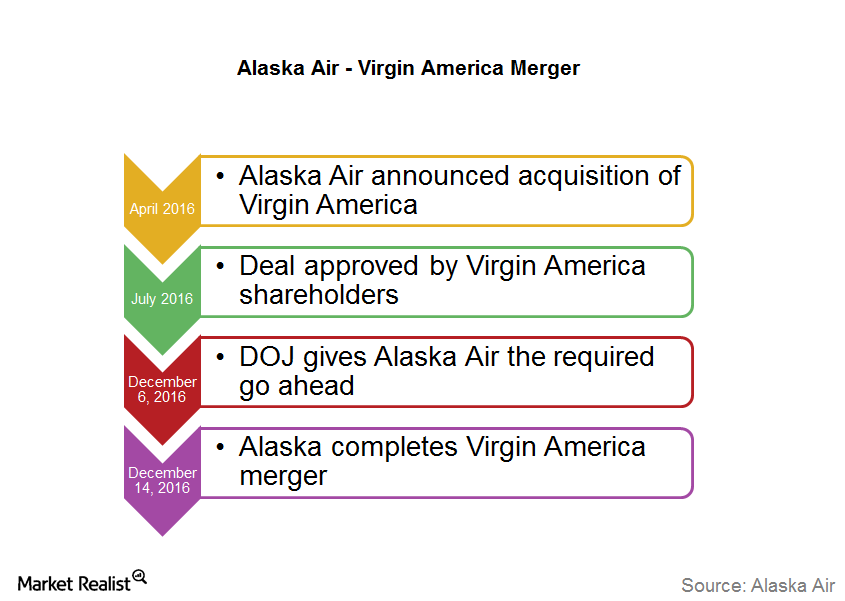 Alaska Air Group Completes Virgin America Merger
DOJ approval
On April 4, 2016, Alaska Air Group (ALK) announced its acquisition of Virgin America for $57 per share in cash, which amounted to $2.6 billion. Including Virgin America's debt, the deal was valued at $4 billion.
The deal was approved by Virgin America shareholders in July. However, it's waiting for approval from the Department of Justice. The merger would create the fifth-largest airline with a combined market share of 5.1%. Together, the big four airlines including United Continental (UAL), American Airlines (AAL), Delta Air Lines (DAL), and Southwest Airlines (LUV) control 84% of the air travel market in the US.
Read Alaska Air Group-Virgin America Merger: Fifth-Largest US Airline and What Can We Expect from the Alaska Air–Virgin America Deal? to learn more.
On December 6, the Department of Justice finally gave Alaska Air the required go-ahead, albeit subject to some conditions. We'll discuss the conditions in the next part.
Article continues below advertisement
Article continues below advertisement
Merger complete
On December 14, Alaska Air finally completed its merger. According to Alaska Air Group, the combined entity will operate nearly 1,200 daily flights to 118 destinations across the US, Mexico, Canada, Costa Rica, and Cuba.
Together, the airlines will provide non-stop service to more destinations than any other airline. Alaska Air Group's service will also be available at important East Coast airports that include three primary New York airports (John F. Kennedy International Airport, LaGuardia Airport and Newark Liberty International Airport) as well as Ronald Reagan Washington National Airport.
Culture complications
Virgin America (VA) and Alaska Air Group have two extreme cultures. Alaska Air Group is managed conservatively. It has disciplined cost management. On the other hand, Virgin American boasts a young vibrant image with on board purple lighting and Wi-Fi service.
Alaska Air can't continue to maintain two different airlines considering the high costs it would incur. On the other hand, it faces the risk of disappointing Virgin America's brand-loving loyal customers.
Currently, Alaska Air Group decided to keep both of the brands intact.
Investors can gain exposure to airlines through the iShares Transportation Average ETF (IYT). IYT holds 5.4% in Alaska Air Group, ~4.7% in United Continental, 4.3% in Delta Air Lines, 3.9% in Southwest Airlines, 3.6% in American Airlines, and 1.9% in JetBlue Airways (JBLU).