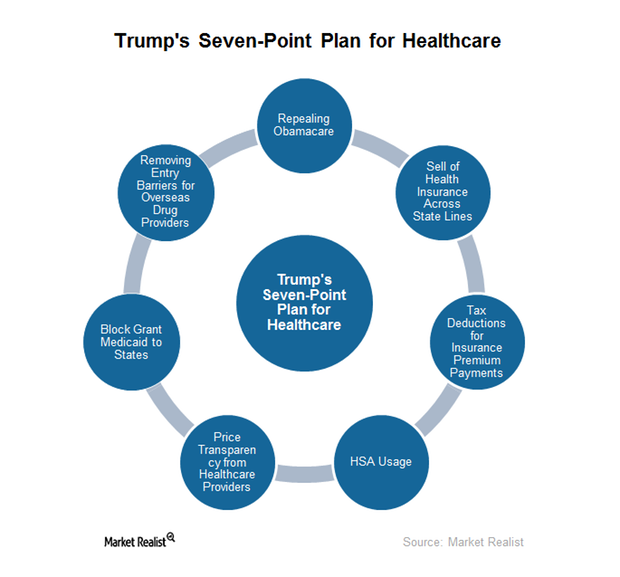 What Is Donald Trump's Seven-Point Health Plan?
Trump's healthcare agenda
During his campaign, Trump came up with a seven-point plan for the healthcare industry. In this plan, he proposed to repeal the Affordable Care Act. Although a complete repeal doesn't seem feasible, if applied, it would definitely take a toll on hospitals and insurance companies. In the next article, we'll discuss the severity of this step in detail and its impact on hospitals and the insurance business.
Article continues below advertisement
With a 17% exposure to hospitals, the First Trust Health Care AlphaDEX ETF (FXH) is major ETF in the business. It rose marginally on November 9, by 0.5%—perhaps its 32.9% investment in pharmaceuticals and biotechnology offset the fall in hospital stocks. The fund has a 2.4% exposure to LifePoint Health (LPNT), a 2.0% exposure to Universal Health Services (UHS), a 1.8% exposure to Biogen (BIIB), and a 1.4% exposure to Endo International (ENDP).
Understanding Trump's seven-point health plan
Trump proposed to encourage health insurance companies to sell across state lines, which could ultimately raise competition among various insurance players and lead to lower insurance costs for individuals. As a part of Trump's seven-point plan, he may allow individuals to opt for a full deduction of insurance premium payments from their tax returns.
Another interesting point proposed by Trump is the usage of HSAs (health savings accounts). He proposed that HSAs should be tax-free and that individuals should be allowed to accumulate funds in them. He expects price transparency from healthcare providers, including doctors, clinics, and hospitals, which would allow an individual to compare options and select the best.
Trump also plans to advocate Medicaid block grants. Block grants comprise money granted by the Federal government to state or local governments As they have a general provision outlining how the amount should be spent, governments can manage Medicaid administration. Additionally, Trump may remove the barriers to entry for overseas drug manufacturers, allowing consumers to have access to imported, safe, and dependable drugs.