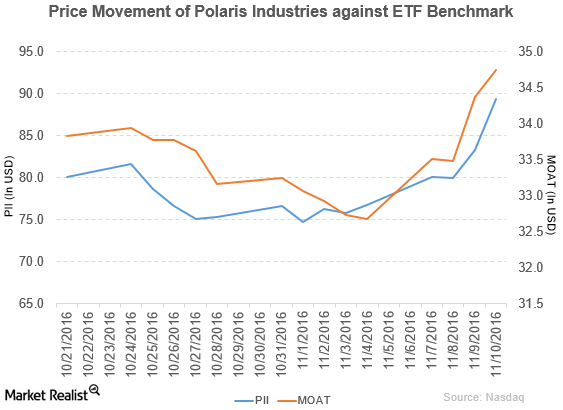 Polaris Industries Acquired Transamerican Auto Parts for $665 Million
Price movement
Polaris Industries (PII) has a market cap of $5.8 billion. It rose 7.3% to close at $89.43 per share on November 10, 2016. The stock's weekly, monthly, and year-to-date (or YTD) price movements were 17.9%, 17.4%, and 6.0%, respectively, on the same day.
PII is currently trading 15.1% above its 20-day moving average, 16.1% above its 50-day moving average, and 4.2% above its 200-day moving average.
Article continues below advertisement
Related ETF and peers
The Market Vectors Wide Moat Research ETF (MOAT) invests 2.7% of its holdings in Polaris. The YTD price movement of MOAT was 20.2% on November 10.
The market cap of Polaris's competitors are as follows:
Latest news on Polaris Industries
In a press release on November 10, 2016, Polaris reported, "Polaris Industries, Inc. (PII) today announced that it has completed the previously announced acquisition of Transamerican Auto Parts (TAP), the leading manufacturer, distributor and retailer of off-road Jeep and truck after-market accessories, for an aggregate consideration of $665 million, subject to customary adjustments, financed through Polaris's existing credit facilities."
Article continues below advertisement
The release added, "Polaris expects the TAP acquisition to contribute approximately $100 million to the Company's fourth quarter 2016 sales and anticipates acquisition costs and purchase price accounting associated with the acquisition of TAP to result in a negative impact to fourth quarter 2016 net income of $15 million to $20 million, or $0.23 to $0.31 per diluted share."
Performance in 3Q16
Polaris Industries (PII) reported 3Q16 sales of ~$1.2 billion, which represents a fall of 18.5% from its ~$1.5 billion in sales in 3Q15. Sales from its Global Adjacent Markets segment rose 6.4%, while sales from the Off-Road Vehicles/Snowmobiles and Motorcycles segments fell 22.6% and 2.9%, respectively, on a YoY (year-over-year) basis.
The company's gross profit margin and operating margin narrowed 655 basis points and 1,190 basis points, respectively, YoY in 3Q16. The narrowing margins resulted from higher warranty and promotional costs and unfavorable product mix, which were offset by a fall in commodity and product costs.
The company's operating margin fell due to a rise in general and administrative and research and development expenses for the revalidation of its product and ongoing innovation.
Its net income and EPS (earnings per share) fell to $32.3 million and $0.50, respectively, in 3Q16, as compared to $155.2 million and $2.30, respectively, in 3Q15.
Polaris's cash and cash equivalents fell 45.5%, while inventories rose 12.1% in 3Q16 YoY. Its current ratio fell to 1.2x and its debt-to-equity ratio rose to 1.7x in 3Q16, as compared to 1.4x and 1.4x, respectively, in 3Q15.
Article continues below advertisement
Quarterly dividend
Polaris Industries declared a regular quarterly dividend of $0.55 per share on its common stock. The dividend will be paid on December 15, 2016, to shareholders of record at the close of business on December 1, 2016.
Projections
Polaris Industries (PII) has revised the following projections for fiscal 2016:
It expects sales growth to fall into the mid- to high-single digits. It also expects Off-Road Vehicles/Snowmobiles sales to fall into high single or low double digits.
It expects its Motorcycle segment sales to rise to low single digits and its Global Adjacent Market sales to rise to high single digits.
It expects EPS in the range of $3.40–$3.60, which excludes the Transamerican Auto Parts acquisition.
In the next part, we'll discuss Ralph Lauren (RL).