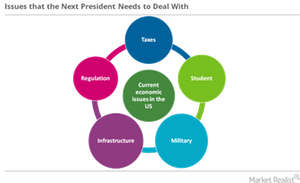 What Mario Gabelli Thinks about the Economy
By Surbhi Jain

Updated
Gabelli on the US economy
Billionaire Mario Gabelli shared his views on the economy during a Wall Street Week interview and at a CNBC Squawk Box interview on November 11. Gabelli seems quite positive about the future of the US economy (SPY) (IWM) (QQQ) (IVV) (VOO). According to Gabelli, the new unified government under a Trump presidency should be able to deal with issues such as taxes, student debt, the military, infrastructure spending, while also reforming regulation.
"Simply stated," said Gabelli, "take fiscal policy and augment monetary policy, and really restructure the country." Gabelli seems to think that fiscal policy will take the baton from here.
Article continues below advertisement
How a Trump presidency could impact the economy
In addition, Gabelli anticipates and is positive about a corporate tax overhaul under Trump. If the corporate tax rate does change from 35% to 15%, a large number of companies, large and small, will be able to post higher earnings growth (after tax), which would translate to better cash flows. And "if interest rates go up, the present values of your liabilities would go down," said Gabelli. Consequently, Gabelli sees pension fund liabilities easing out. So far, with their low-interest rate regime, central bankers have been threatening capitalism. Gabelli believes that under Trump, capitalism is going to get a big tailwind.
On the debate around trade deals, Gabelli said Trump isn't "against trade deals he's against bad trade deals." Trump believes that the NAFTA (North American Free Trade Agreement) is the worst trade deal ever signed by any country ever.
So, given higher interest rates and higher earnings, where should you invest? We'll discuss this question next.