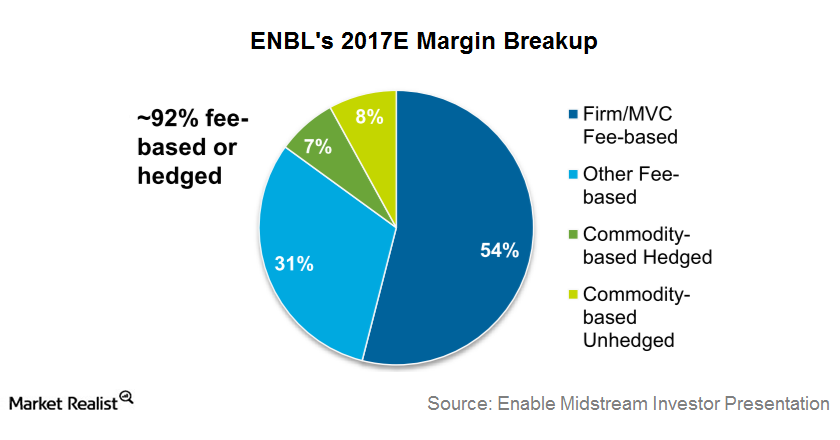 Getting Familiar with MLP Contracts
Fixed-fee contracts
In this article, we'll look at types of MLP contracts for midstream MLPs. Midstream MLPs generally have fixed-fee contracts. Under fixed-fee contracts, fees are charged on volumes of commodities transported, stored, and gathered, just like a toll road. Fees or tariffs are generally regulated by the FERC (Federal Energy Regulatory Corporation).
However, under these types of contracts, partnerships aren't protected by production declines. For that, they have firm reservation contracts or minimum volume commitments.
Article continues below advertisement
Firm reservation contracts: Firm reservation contracts, or firm contracts, guarantee a fixed monthly fee for the reservation of capacity regardless of whether the capacity is used.
Minimum volume commitments: MVCs (minimum volume commitments) contracts guarantee some minimum throughput volumes. If throughput volumes fall below the MVC, the shippers are required to make shortfall payments.
In the current low energy price environment, even these types of contracts may not be safe. Some upstream producers have canceled or restructured these contracts to reduce their costs and provide support for their balance sheets. The above chart gives an example of contract types for Enable Midstream (ENBL).
Natural gas midstream contract types
MLPs involved in natural gas midstream activities have the following types of contracts:
Keep-whole contracts: Under keep-whole contracts, the processing MLP generally keeps a portion of the NGL extracted through fractionation as payment. The MLP replaces the energy content of the NGLs it retained with natural gas.
Percentage-of-proceeds contracts: In percentage-of-proceeds contracts, the MLP gathers and processes natural gas on behalf of producer customers. It sells the residue gas and NGLs produced from processing. The company remits an agreed-upon percentage of the proceeds to the producer and retains the rest.
MLPs that have keep-whole or percentage-of-proceeds contracts are affected by the movements in fractionation (or frac) spreads. A frac spread is the spread between Henry Hub natural gas and Mont Belvieu composite NGLs prices. MLPs that have these contracts include DCP Midstream Partners (DPM), Oneok Partners (OKS), MPLX LP (MPLX), EnLink Midstream Partners (ENLK), and Energy Transfer Partners (ETP).