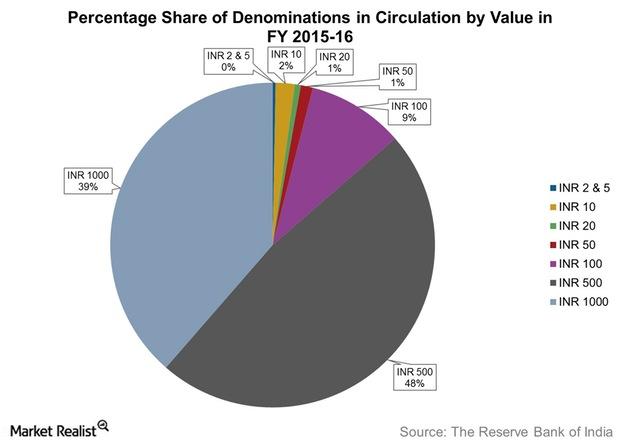 Why India Demonetized 2 Currency Notes
Indian government's surprise
In an address to the nation on November 8, India's prime minister, Narendra Modi, declared that the two highest denomination currency notes—the 500 rupee note and the 1,000 rupee note—won't remain legal tender. The notes were demonetized at midnight on November 8. The move aimed to curb black money in the financial system. Black money is one of the factors holding back the economy.
The demonetization was a surprise. Since the announcement, the media discussed the pros and cons for consumers and the banking system (HDB) (IBN).
Article continues below advertisement
Lion's share put out of circulation
According to the RBI's (Reserve Bank of India) Annual Report for April 2015 to March 2016, the value of the currency notes at the end of March 2016 was 16.42 trillion Indian rupees. The 500 rupee and 1,000 rupee currency notes formed 86.4% of the value. In one stroke, the government removed 86.4% of the currency in circulation by value. In terms of volume, the currency notes of these two denominations formed 24.4% of a total 90.27 billion pieces.
Also, RBI data showed that as of March 2016, 632,926 currency notes were counterfeit—known as an FICN (Fake Indian Currency Note). As a proportion of NIC (Notes in Circulation), the 1,000 rupee and 500 rupee notes were the highest. Nullifying these FICNs was also part of the demonetization move.
In this series
In this series, we'll look at the possible impact of the demonetization on the Indian economy. We'll discuss what it could mean for inflation, monetary policy, and financial markets (INDA) (PIN) (EPI). The series should help you assess what could transpire with your Indian investments in the short to medium term.
Let's start by looking at the broad impact that the demonetization had on the Indian economy.