Which Gold Miners Offer Long-Term Production Growth?
Barrick Gold (ABX) slightly increased its 2016 production guidance to ~5.3 million to ~5.6 million ounces.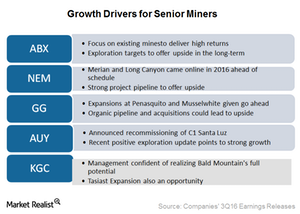 Long-term production growth
After years of cutting back on sustained capital expenditure, gold miners have started to refocus on production growth as gold prices (GLD) remain buoyant in 2016. Increased exploration and capital expenditure budgets have been the key themes of miners' earnings in 2016 so far. Sustained growth is one of the prerequisites for sustainable outperformance over the long term.
Article continues below advertisement
Article continues below advertisement
Strong project pipeline
Newmont Mining (NEM) expects its 2016 gold production to be between 4.8 million–5.0 million ounces. Production in 2017 is expected to be higher at 5.2 million–5.7 million ounces. Newmont Mining's Merian and Long Canyon commercial production during October and November, respectively, is ahead of schedule. The company's long-term production guidance doesn't include some of these projects, which could contribute 250,000–400,000 ounces starting in 2018.
For deeper insight into the potential upside from Newmont Mining's growth projects, please read Is Newmont Ready to Start Long Canyon before Schedule?
Goldcorp (GG) has maintained its production guidance of 2.8 million–3.1 million ounces for 2016. In its 2Q16 results, the company announced that it will move forward with its expansion projects at Penasquito and Musselwhite mines. This is in keeping with its focus on growth.
In addition to these brownfield opportunities, Goldcorp has incremental upside potential from its newly acquired Coffee Gold project at Kaminak. While Goldcorp's existing mines should contribute to its production growth starting in 2019, the Coffee Gold project is expected at the end of 2020.
Upside potential
Barrick Gold (ABX) slightly increased its 2016 production guidance to ~5.3 million to ~5.6 million ounces. Its expected production for 2018 is slightly lower at 4.6 million–5.1 million ounces. With its falling production forecast, the company is looking for exploration targets, including Alturas.
Barrick Gold's strategy is to seek growth through optimization and exploration. The company is focusing on its existing mines for improvement to deliver high returns rather than focusing on quantity at any cost.
Yamana Gold's (AUY) production guidance doesn't include the upside potential from the C1 Santa Luz project and the Barnat Extension of the Canadian Malartic mine. On September 6, 2016, it provided a positive exploration update, which offered a potential upside to its production growth.
Investors have been concerned about Yamana's growth profile, and the exploration update seems to have eased some of these concerns. After the update, the company's stock rose 7% while the VanEck Vectors Gold Miners ETF (GDX) rose 4.8% on the same day.
Expansion concerns
Kinross Gold's (KGC) management sounded confident during the company's 3Q16 earnings call, which addressed the realization of Bald Mountain's full potential. Management is focusing on doubling the mineral reserve estimates from this mine by the end of 1Q17. Round Mountain is also progressing according to plan.
Kinross Gold's Tasiast expansion could provide a further upside to production in the long term. During the earnings call, its management maintained that the phase one expansion at Tasiast is progressing well. It expects to reach full production by 2Q18.