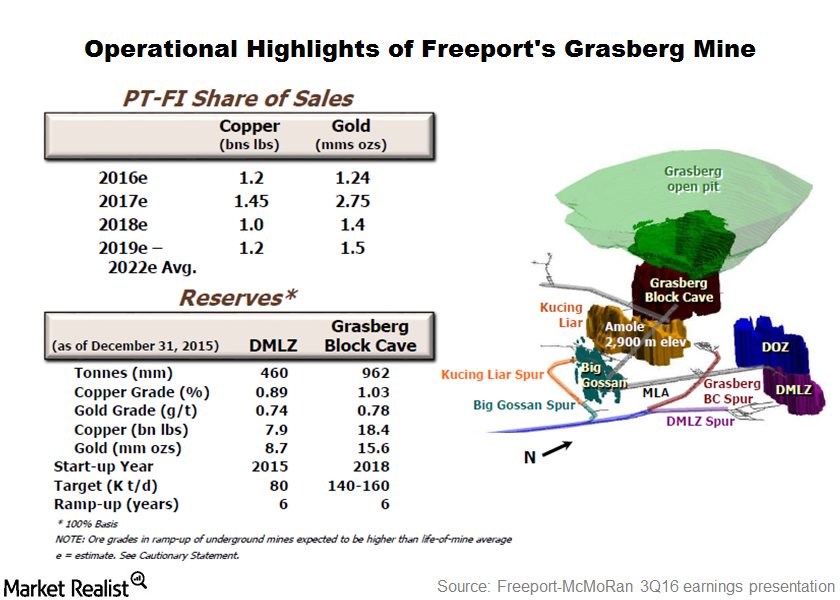 What Are Freeport's Near-Term Growth Drivers?
Freeport's copper shipments
Previously, we saw that Freeport-McMoRan (FCX) expects its copper shipments to fall next year due to asset sales. The falling trend in Freeport's copper shipments could continue beyond 2017. Let's discuss why.
Article continues below advertisement
Grasberg underground operations
Freeport's Grasberg mine in Indonesia would finish the open pit operations in 2018. Rio Tinto (RIO) (TRQ) is Freeport's partner in this mine. After 2018, the mine would have to be converted into underground operations. According to Freeport, the mine could take five to six years to ramp up to the full capacity. In the meantime, the company's copper production could fall. For instance, Freeport expects its share of copper production from the Grasberg mine to fall to 1.0 billion pounds in 2018 from 1.45 billion pounds in 2017.
However, the company's share of copper production from the Grasberg mine is expected to increase to 1.2 billion pounds in 2019. Notably, while Freeport's copper production is expected to fall over the next two years, Southern Copper (SCCO) is ramping up its production during this period.
Growth drivers
Currently, Freeport isn't investing in any major growth project apart from its investment to convert the Grasberg mine into underground operations. There aren't many growth drivers for Freeport's copper production profile given its current capex (capital expenditure) plan. Having said that, the company could look at ramping up production at some of its existing copper mines if we see a sustainable recovery in copper prices (DBC). Freeport could also look at new growth projects. Its balance sheet is in a much better shape now compared to last year. We'll look at Freeport's balance sheet metrics later in the series. In the next part, let's see how Freeport's unit cash costs could shape up next year.