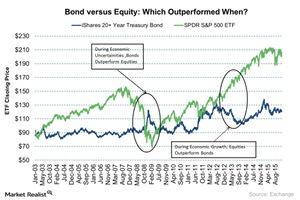 Equities or Bonds: Which Will Outperform during Trump Presidency?
Rising yields in bond market
On November 9, 2016, the iShares 20+ Year Treasury Bond ETF (TLT) fell 4.2% following Donald Trump's win over Hillary Clinton. The fall in bond prices could be a result of the large fiscal stimulus that Trump promised during his election campaign. Trump's administration could infuse huge investment into infrastructural projects. It could lead interest rates to stay lower for the next few years, thereby increasing bond yields of longer-dated securities.
Article continues below advertisement
How the equity market looks
Trump has said he wants to create more job opportunities by scrapping old regulations and imposing trade regulations. His protectionism policies could impact emerging markets (EEM) (VWO). However, higher job growth could be translated into higher consumer spending that could boost equity markets. In a previous part of this series, we discussed Trump's policy beliefs and how they could affect specific sectors.
Recent market reaction
On November 9, 2016, when Donald Trump was leading over Hillary Clinton, all Asian markets were in the red. Safe-haven assets like gold (GLD) (GDX) (RING) jumped 5% on an intraday basis. Growth-driven assets like crude oil (USO) (UCO) fell 4.2%. Japan Nikkei 225 closed 5.4% down on the same day. However, the S&P 500 index (SPY) (QQQ) (IVV) recovered its initial losses and closed 1.1% up. Crude oil active futures recovered quickly along with the equity markets. US crude oil rose 0.6%. The recovery in growth-driven assets such as equities and crude oil indicate that the uncertainties surrounding the US presidential election are over. The graph above illustrates the performance of bonds compared to the equity markets since 2003.
In the next part of this series, we'll analyze the performance of equity and commodity markets.